Emma and Tom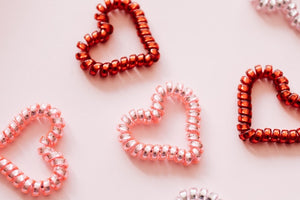 When in love, moments and emotions blend into a seamless experience of romance, ecstasy, and blissful joy. All this comes together to create joyful music of togetherness and reach a crescendo with the final instant of proposal and engagement. The stunning engagement ring is the icing on the cake. There's something so purely emotional and unique about proposals that it calls for celebration from family, friends, and even strangers. Love stories are eternal. And the magic of a radiant engagement ring is perennial. Few, familiar and stranger alike, can survive the magnetism of a gleaming gemstone. Just the perfect point to start an animated conversation.
Social media is flooded with tons of stirring engagement ring stories. Emma and Tom's love story touches our hearts with the poignant emotions and sweetness of their encounters. Fairy tales do come true and Emma and Tom stand testament to the fact.
Emma and Tom came to know each other in college. The three years of studies and activities got them to meet and learn new things about each other. In the first year of college, Tom was introduced to Emma by a common close friend who was in the same college. They found themselves chatting the whole evening at the weekend party hosted at that friend's pad. That night, Emma realized that she actually liked the easy camaraderie and companionship she shared with Tom. A precious thing considering most men her age is after everything else apart from friendship. She had to confide in her roommate about this fantastic feeling and the endless conversation.
Over the next two years, they met almost every day after class. As they didn't have any class together, much of the hanging out used to take place at the cafe a block away. And the exchange continued for hours on end. By the end of the second year, they pretty much covered every minor and crucial topics of their lives. Yet, they were not exactly officially dating.
The third year of college was momentous for Emma and Tom as they made it official. Until they took up jobs at two opposite ends of the country. Another two years of long-distance communication came to an end when Tom moved to Emma's city with a plush job and started living together. The sixth months of living together prompted Tom to take things another step further. He decided to propose to Emma with possibly the most romantic and sensational engagement ring one can imagine. Easier said than done!
Thankfully, Tom took charge of making his dream come true by investing in a gorgeous gray moissanite and diamond engagement ring, entirely custom-made for his ladylove. Not your regular diamond solitaire, but then again Emma was no regular girl. This independent, strong-willed woman liked all things exceptional and remarkable. Tom chose Giliarto as his jeweler to craft a completely customized diamond-studded, subtle gray moissanite engagement ring. He worked over the idea, sketches, and detailing simply by tailor-making his beloved' ring on the Clio 3D platform.  
The final proposal happened when Emma was least expecting it. In the bathroom, of all places. Tom feigned ill health to get Emma venture urgently inside. And there he was, sitting on his one knee with a velvet engagement ring box in his hand. Thankfully, the bathroom sink came in handy when Emma had to lean for support. Taken by surprise, Emma bawled like a baby. Too many sweet memories and fights hurried in front of her eyes. She knew Tom was the man of her life. The man who would go miles simply to see her smile. Thankfully, she said "yes" to her best friend.
Leave a comment
Comments will be approved before showing up.
---
Also in Articles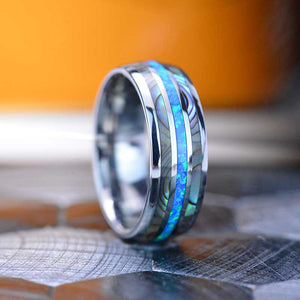 Unveiling the Timeless Elegance: Tungsten Rings with Abalone Shell and Crushed Opal Inlays for Men
In the world of men's fashion, finding a ring that perfectly combines style, durability, and distinctiveness can be a challenging task. However, the search ends with the mesmerizing allure of tungsten rings adorned with abalone shell and crushed opal inlays. These exquisite rings offer an extraordinary blend of natural beauty, rugged strength, and artistic craftsmanship, making them an ideal choice for modern men who seek to make a bold and unique statement.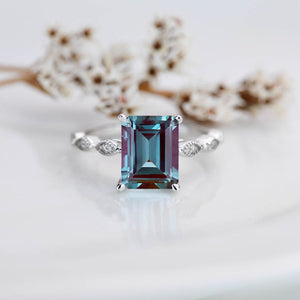 Embracing Eco-Friendly Jewelry: The Beauty of Recycled Gold and Lab-Grown Stones
In recent years, the world has witnessed a growing awareness and concern for the environment, leading to a surge in demand for sustainable and eco-friendly products. The jewelry industry, often associated with resource-intensive practices and environmental concerns, has not been immune to this shift. As consumers become more conscious of their choices, eco-friendly jewelry crafted from recycled gold and lab-grown stones has emerged as a popular and ethical alternative. In this article, we explore the beauty and significance of eco-friendly jewelry, shedding light on the benefits it offers to the environment and why it's becoming a preferred choice among jewelry enthusiasts.