2020 Engagement Ring Trends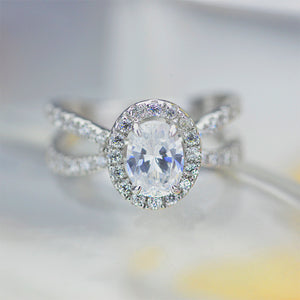 2020 Engagement Ring Trends
If you have plans to propose to the special someone in your life this year, you better start paying attention to the styles that are trending this year. 2020 has a lot of surprises where engagement rings are concerned. Insofar, a number of new trends has surfaced up showing promises while some from the previous years have tanked and sunk for now. Here are the biggest engagement ring trends of 2020. 
Oval Cut Diamonds Are On the Rise
2019 was the year of pear-cut diamonds, and this year, it's the turn of the oval cut. Already a popular shape in the catalogue of fancy cuts, this style is a frontrunner this year. Following the lead of Blake Lively, Hailey Bieber, Sarah Hyland and the likes, this cut has rose to prominence and is trending right now. 
Platinum Settings Are In
Gold was back last year, but that's changing with the return of platinum settings. Although a popular style for many years now, this year, jewelers have noticed a rise in the number of customers requesting for this style. Designers are infusing modern dainty twists into this classic style to keep the variety going. 
Super-Lean Bands Are Still Going Strong 
Last year, we saw a bunch of chunky gemstone engagement rings that featured simple, skinny bands. This year too, the super-skinny style of bands is ruling. Skinny bands have also ushered in the trend of stacking and styling rings.  
Hidden Halos Are Replacing Chunky Halos
Halos are still in, but a different kind is going big this time. Chunky halos are now a thing of the past. In their place has emerged hidden halos. Popularly requested, these halos are a lot more dramatic and a bit subtle in aesthetics compared to the other kinds that have been popular so far. 
Leave a comment
Comments will be approved before showing up.
---
Also in Articles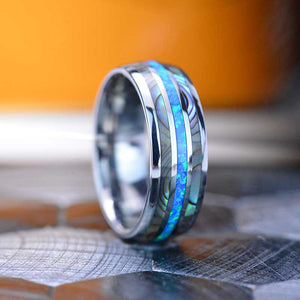 Unveiling the Timeless Elegance: Tungsten Rings with Abalone Shell and Crushed Opal Inlays for Men
In the world of men's fashion, finding a ring that perfectly combines style, durability, and distinctiveness can be a challenging task. However, the search ends with the mesmerizing allure of tungsten rings adorned with abalone shell and crushed opal inlays. These exquisite rings offer an extraordinary blend of natural beauty, rugged strength, and artistic craftsmanship, making them an ideal choice for modern men who seek to make a bold and unique statement.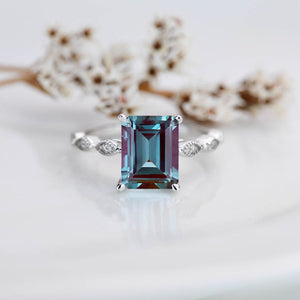 Embracing Eco-Friendly Jewelry: The Beauty of Recycled Gold and Lab-Grown Stones
In recent years, the world has witnessed a growing awareness and concern for the environment, leading to a surge in demand for sustainable and eco-friendly products. The jewelry industry, often associated with resource-intensive practices and environmental concerns, has not been immune to this shift. As consumers become more conscious of their choices, eco-friendly jewelry crafted from recycled gold and lab-grown stones has emerged as a popular and ethical alternative. In this article, we explore the beauty and significance of eco-friendly jewelry, shedding light on the benefits it offers to the environment and why it's becoming a preferred choice among jewelry enthusiasts.