Best innovative online jewelry tools Giliarto

You have come a long way from the days of spending hours in a brick and mortar shop for buying something you need. In every aspect of your life, online shopping is more the norm today than the exception. One would imagine that for a product like fashion jewelry, people would want to touch and feel their product before purchasing it. But that is not the case. A large number of jewelry stores have opened their online stores which are being lapped up by their patrons.
Giliarto is one such example. You will simply love our website not only for its awesome layout but for all the attractive and innovative jewelry designs we have put there. Be it rings, pendants, earrings, and  bracelets, our website has it all for you, and you can browse all you want to find the perfect design you are looking for.
But the innovation from Giliarto doesn't stop only at the various designs of its gems and jewelry. We also bring you an app called Clio which is an amazing tool which can help you design the jewelry of your choice in 3D. You need to pay for anything till you have zeroed in on the exact design that you love. Let us look at how you can make best use of Clio.
Because the Clio app has a variety of costly and not-so-costly materials you can use, the cost of the jewelry you design can sometimes go very high. That is why it smarter to use the cost filter on Clio and limit the price of your designs at the outset, so that you will be provided only those options which will help you stick to that budget.
The Clio app offers you a variety of design styles, ranging from the loud and bright ones to the classic understated options. You can see designs inspired by nature, or designs taking their cue from culture and history. One way is to decide at the outset what kind of designs you like so you will look in lesser categories. But we suggest you go in with an open mind and check out all the options we have. Who knows, you might end up selecting a design you never knew you would love.
When you get down to designing your own jewelry using the Clio app, we suggest you open the app with lots of time in hand. If you are the creative type, you will want to try out all design elements and mix and match different combinations, which would easily make hours slip by. If you are in a hurry, we suggest you put away the app.
Finally, the good thing about Giliarto and Clio is that you can get awesome jewelry of your choice without having to spend a bomb for it. As we said at the outset, the correct selection of filters on the jewelry designing interface will ensure that the costlier options do not show up at all. That will help you easily limit the price you pay.
Leave a comment
Comments will be approved before showing up.
---
Also in Articles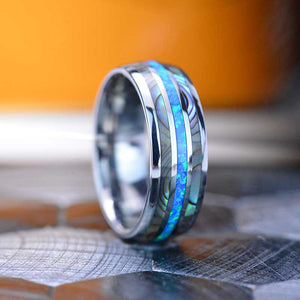 Unveiling the Timeless Elegance: Tungsten Rings with Abalone Shell and Crushed Opal Inlays for Men
In the world of men's fashion, finding a ring that perfectly combines style, durability, and distinctiveness can be a challenging task. However, the search ends with the mesmerizing allure of tungsten rings adorned with abalone shell and crushed opal inlays. These exquisite rings offer an extraordinary blend of natural beauty, rugged strength, and artistic craftsmanship, making them an ideal choice for modern men who seek to make a bold and unique statement.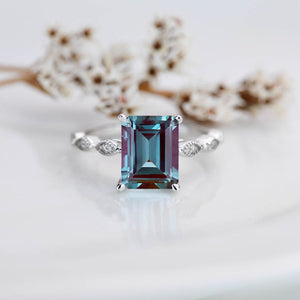 Embracing Eco-Friendly Jewelry: The Beauty of Recycled Gold and Lab-Grown Stones
In recent years, the world has witnessed a growing awareness and concern for the environment, leading to a surge in demand for sustainable and eco-friendly products. The jewelry industry, often associated with resource-intensive practices and environmental concerns, has not been immune to this shift. As consumers become more conscious of their choices, eco-friendly jewelry crafted from recycled gold and lab-grown stones has emerged as a popular and ethical alternative. In this article, we explore the beauty and significance of eco-friendly jewelry, shedding light on the benefits it offers to the environment and why it's becoming a preferred choice among jewelry enthusiasts.