Black Rhodium Care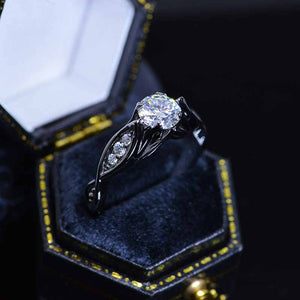 Black rhodium plating is a popular choice for adding a dark, sleek finish to jewelry, especially rings. However, this type of plating can be more delicate than traditional metal finishes. Here are some care instructions to ensure the longevity of a ring with black rhodium plating:
Avoid Abrasive Materials: Black rhodium plating can be more susceptible to scratches and wear compared to other finishes. Avoid contact with abrasive materials, such as rough surfaces or harsh chemicals, that could potentially damage the plating.

Regular Cleaning: Gently clean the ring regularly using mild soap and warm water. Use a soft cloth or a gentle brush to remove dirt and debris from the surface. Avoid using abrasive cleaning materials, as they can scratch the plating.

Avoid Harsh Chemicals: Avoid exposing the ring to chemicals such as household cleaners, bleach, chlorine, or hairspray. These substances can corrode the plating and cause it to fade or wear off.

Remove During Activities: It's a good practice to remove the ring before engaging in activities that could potentially damage the plating, such as heavy lifting, exercising, gardening, or using harsh cleaning agents.

Storage: Store the ring in a separate jewelry box or pouch to prevent it from coming into contact with other jewelry pieces that could potentially scratch or damage the plating.

Avoid Water Immersion: While black rhodium plating is generally more durable than some other plating types, it's still a good idea to avoid prolonged exposure to water. Remove the ring before swimming, bathing, or doing dishes.

Replating: Over time, black rhodium plating may naturally wear off due to regular wear and tear. If you notice the plating fading or wearing thin, consider having the ring professionally replated to restore its original appearance.

Professional Care: If you're unsure about how to clean or care for your black rhodium-plated ring, consider taking it to a professional jeweler for cleaning and inspection.
Remember that while these care instructions can help extend the life of your black rhodium-plated ring, some degree of wear is natural over time. Regular maintenance and care will help keep your ring looking its best for as long as possible.
Leave a comment
Comments will be approved before showing up.
---
Also in Articles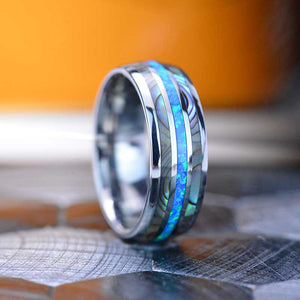 Unveiling the Timeless Elegance: Tungsten Rings with Abalone Shell and Crushed Opal Inlays for Men
In the world of men's fashion, finding a ring that perfectly combines style, durability, and distinctiveness can be a challenging task. However, the search ends with the mesmerizing allure of tungsten rings adorned with abalone shell and crushed opal inlays. These exquisite rings offer an extraordinary blend of natural beauty, rugged strength, and artistic craftsmanship, making them an ideal choice for modern men who seek to make a bold and unique statement.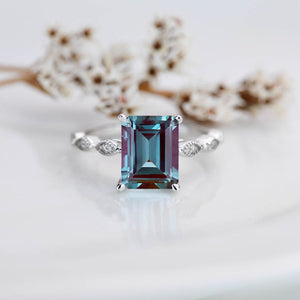 Embracing Eco-Friendly Jewelry: The Beauty of Recycled Gold and Lab-Grown Stones
In recent years, the world has witnessed a growing awareness and concern for the environment, leading to a surge in demand for sustainable and eco-friendly products. The jewelry industry, often associated with resource-intensive practices and environmental concerns, has not been immune to this shift. As consumers become more conscious of their choices, eco-friendly jewelry crafted from recycled gold and lab-grown stones has emerged as a popular and ethical alternative. In this article, we explore the beauty and significance of eco-friendly jewelry, shedding light on the benefits it offers to the environment and why it's becoming a preferred choice among jewelry enthusiasts.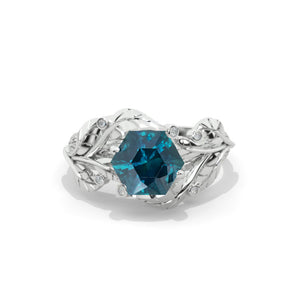 Why Teal Sapphire Engagement Rings?
The Importance of Teal Sapphire Engagement Rings with Eco-Friendly Ethically Lab-Grown Stones
Introduction: Choosing an engagement ring that combines exquisite beauty with ethical and eco-friendly considerations is becoming increasingly important to couples. Enter teal sapphire engagement rings featuring lab-grown stones. In this article, we explore the significance of selecting these ethically sourced gems, highlighting their eco-friendly attributes and the benefits they offer to both the environment and the conscious consumer.