CHRISTMAS JEWELRY GIFT IDEAS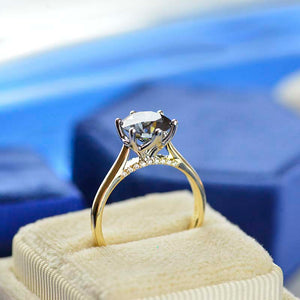 Celebrate Christmas with Exceptional Customized Jewelry
It's a known fact that some of the best things in life come in beautifully small packages. The concept of jewelry is not limited to trends. It belongs with precious memories and nostalgia. That's why customized jewelry makes perfect gifts for Christmas. This season of festivity and fervent sentiments can be best complemented by a piece of personalized jewelry. At Giliarto, you can craft an impeccable piece of jewelry for your loved one. A custom creation tells a meaningful and significant story. It is an expression of your adoration that will sustain for the years to come. Moreover, if you are looking for some Christmas jewelry gift ideas then you are at the right place. So, read on.
Why choose customized jewelry as Christmas gifts?
Personalized jewelry is often fine jewelry that promises to stand the test of time. The best part about your present is its sheer uniqueness. It reflects your care and attention to offer something extraordinary. Matched by none, a custom jewel speaks volumes about the person. Think of a birthstone pendant. It is uncommon and individualistic at the same time.
Custom jewelry is a piece of memory, lasting years, lifetime and even generations. Your family heirlooms and the growing popularity of vintage jewels only underscore the importance of jewelry as memories. A glorious piece of ornament certainly elicits stories, history, and sweet remembrance. The mystery of personalized jewelry certainly starts conversations. Jewelry is a tangible monument of your affection. It helps you forge a bond and leaves a brilliant reminder.
If you are planning to surprise your loved one with an exquisite piece of jewelry, exploring these jewelry gift ideas will help you come up with something exclusive and fascinating.
Alternate gemstone jewelry
Are you planning to surprise someone who likes all things unconventional? Moving away from the predictable diamonds will allow you to play with colors and common silhouettes. Think gray or black moissanite rings. The translucence of a gray moissanite is different from that of a diamond. The lucidity of this gemstone has only contributed to its charm. An orange or pink morganite solitaire is a breathtaking sight. They are far from ordinary and boasts of a singularity unmatched by diamonds.
Custom floral bracelet
Floral designs have remained a favorite over the years. Unbeatable in their elegant appearance, floral inspirations in bracelets have garnered attention. Sterling silver, gold, rose gold, and colorful gemstones give birth to something exquisite. They tell a story through the design. Floral bracelets add a touch of bohemian luxury to any ensemble. Flowers encrusted with gemstones are appealing. Perfection, youth and innocence can be best expressed by flowers. Simple motifs or intricate designs – there is simply no dearth of options when it comes to floral bracelets.
Gemstone earrings
A pair of aquamarine earrings beautifully transitions from formal to informal. A customized emerald earring spells refined elegance. Diamonds is all their colorless glory can be combined with tourmaline or peridot or garnet to create something absolutely rare. Whether a solid single-color gemstone or a sparkly amalgamation with diamonds, rest assured this pair will surely turn heads.
Diamond halo pendants
Brilliance does not know a boundary when it comes to diamonds. If diamond is everything she thinks about, look no further than diamond halo pendants. They are a cluster of sparkle. The encircling of an additional line of diamonds creates the much sought-after illusion of a bigger and brighter diamond. A variety of designs can be stunningly portrayed with the artistry of diamond halo. They are perfect for celebratory occasions or even a night-out with friends. A halo pendant is enough to lift up an outfit.
Customized promissory ring
A promissory ring represents commitment and promise of love. Not limited to be shared between couples, a promise ring can speak about your affection when gifted to a friend. The pledge of lifelong loyalty can be best shared during Christmas and a promissory ring will only add to the significance of  the occasion. A customized engraving or message conveys your feelings in an even more personal way. With a promissory ring, you start believing in the hope of togetherness.
Personalized men's jewelry
If the recipient is finicky about his appearance, look no further than customized jewelry for men. Think rarer compositions of tungsten, titanium, or meteorite to bring in a flavor of incredible.
Black titanium is the hottest trend that has been ruling on and off the runways. They not only are durable but stylish and avant garde in equal measure. Black, hypoallergenic and nickel-free – titanium is the go-to metal for the modern man. Single or double ridged band, beveled edges, diverse textures, variable widths, or even polished finish – you will be inundated with choices. Colorless diamonds can also be featured in the ring to create an interesting wedding band.
Meteorites with all their cosmic glory have slowly taken over the world of rings. When blended with unusual elements like carbon fiber or wood inlays, meteorites result in something truly fantastic. A solid wood and copper ring make an excellent anniversary gift idea for the man in your life. Ensure that the fit and width are flawless.
If you are searching for something sophisticated and timeless, it is a good idea to opt for the customization route. It gives you the opportunity to decide the design and oversee the entire process.
Customized name jewelry
Try personalizing a pendant or charm bracelet with the name or initials of your loved one. Name necklaces have seen growing popularity. They achieved a cult status thanks to Michelle Obama flaunting the V.O.T.E necklace. Names can be designed in an array of fonts, shapes, and structures. Adding charms into the mix will elevate the design to a whole new level. The length of the chain can be adjusted according to the preference of the wearer. Name necklaces are also ideal choice for layering. From traditional yellow gold, sleek white gold or platinum, to soft and mellow rose gold – the options are diverse and gorgeous.
Nothing speaks togetherness better than a stunning piece of custom-made jewelry. In these uncertain times, celebrate Christmas with the warmth of kinship and a touch of brilliance.
https://www.giliarto.com/collections/clio  - ENGAGEMENT RINGS 


https://www.giliarto.com/collections/gray-grey-moissanite-rings - GRAY MOISSANITES
Leave a comment
Comments will be approved before showing up.
---
Also in Articles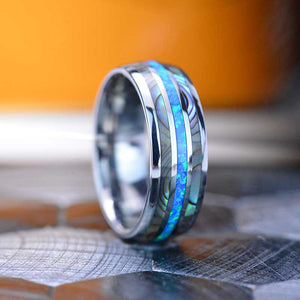 Unveiling the Timeless Elegance: Tungsten Rings with Abalone Shell and Crushed Opal Inlays for Men
In the world of men's fashion, finding a ring that perfectly combines style, durability, and distinctiveness can be a challenging task. However, the search ends with the mesmerizing allure of tungsten rings adorned with abalone shell and crushed opal inlays. These exquisite rings offer an extraordinary blend of natural beauty, rugged strength, and artistic craftsmanship, making them an ideal choice for modern men who seek to make a bold and unique statement.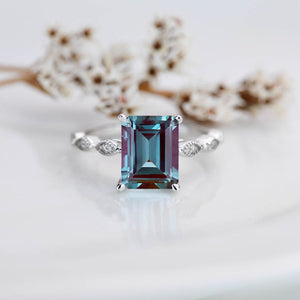 Embracing Eco-Friendly Jewelry: The Beauty of Recycled Gold and Lab-Grown Stones
In recent years, the world has witnessed a growing awareness and concern for the environment, leading to a surge in demand for sustainable and eco-friendly products. The jewelry industry, often associated with resource-intensive practices and environmental concerns, has not been immune to this shift. As consumers become more conscious of their choices, eco-friendly jewelry crafted from recycled gold and lab-grown stones has emerged as a popular and ethical alternative. In this article, we explore the beauty and significance of eco-friendly jewelry, shedding light on the benefits it offers to the environment and why it's becoming a preferred choice among jewelry enthusiasts.