Cocktail Rings, the Statement Jewel from the 20s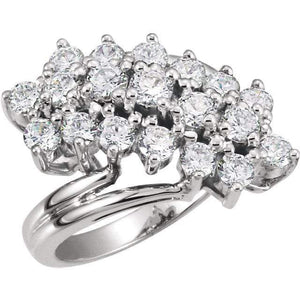 Cocktail Rings, the Statement Jewel from the 20s 
A cocktail ring is easily a standout piece of jewelry in any ensemble. Featuring a markedly bigger-than-average size rock, this ring is noted for its motley gemstones and unusual shapes. With a chunky focal stone and gorgeous accent stones, this ring is the very definition of style and glamor. Together with large gems in fancy shapes, a cocktail ring creates a statement effortless. Worn with party wears and ballroom gowns, there is no dedicated finger to wear this exquisite ring on. That gives patrons the liberty to wear them on any finger of their choice. 
Origin Story of Cocktail Rings 
Cocktail rings might be a show of style and grandeur today, but it wasn't always so. This ring rose to popularity in the 1920s, which if you remember was a period fraught with strife and tension. There was a constant conflict between pre-war old ways and the post-war newness bubbling under the surface. The "Roaring 20s", the "Age of Jazz", the decade of women's voting rights, the 20's is historic for many reasons. It is in this era of monumental progression that the cocktail ring was born. 
In the 20s when alcohol was banned, it became a contraband item in speakeasies where partygoers with friends in high places would go to sip on cocktails and socialize with a like minded crowd. That's where the emergence of cocktail rings first happened as a mark of rebellion against prohibitionists. The idea of flaunting these oversize, sparkly, multi-color rings was to draw attention to themselves doing something that the government does not approve, drinking alcohol. It was their way of expressing freedom and independence.  
How Did They Get Their Name?
There is a very interesting story behind how cocktail rings came to be called so. As narrated above, these rings emerged in the underworld scene in the hidden pubs and societies where acts of rebellion were performed without censure and with full freedom. The rings came to be known as cocktail rings after their connection with cocktails that the people in these parties would enjoy to demonstrate their protests against the traditional and outdates ways of the government. For those people, the cocktail ring wasn't an adornment to spruce up their ensemble, but it was an artefact of liberation, something they wore not for the benefits of the onlookers. It was the wearers' to enjoy alone. 
How Expensive Are Cocktail Rings? 
Big and beautiful, cocktail rings will at first sight give you the impression that they are superbly expensive and well beyond your budget, but in fact they are not. Most cocktail rings are decorated with semi-precious stones, which despite being big are surprisingly affordable. Of course you can add diamonds and other precious stones into the arrangement to elevate the visuals but for their gorgeous aesthetics and large size, these rings are quite affordable. 
Speaking of prices of cocktails, those vary on the contents of the ring. You can buy a cocktail ring featuring oversize and vibrantly colored gems for less if you choose inexpensive gemstones. All the same, for rings featuring precious stones, the prices are higher. The metal also plays a part in the price. High-quality gold rings will cost you more than silver. Platinum bands will cost even more. 
Some Favorite Styles
To this day, cocktail rings are stylish articles of jewelry that elevate outfits and make wearers the center of attention. Currently, the market has a wide selection of cocktail rings to choose from. The designs have evolved arguably since their early years. Although the drama is still very much there in the designs, the styles have transmuted from vintage to modern with the passing of years. Here are some favorites from the recent years:
The Triple Aquamarine Feature 
Set with customizable semi-precious emerald-cut gemstones of graduated sizes, this ring is magnet for attention. With aquamarines which the original design comprises this ring looks its best. Arranged together with no distracting designs, this ring features simple settings and an even simpler band. So if you like cocktail rings that are bold but demure both at the same time, this is your pick.
Amethyst on Paved Diamond Band
Amethyst is one of the best picks for cocktail rings that are supposed to stand out and call attention to themselves. The dark purple color and the enigmatic character of the stone does half the job. This ring features a colossal cushion-cut amethyst on a skinny metal band. The band has been aggrandized with diamond paving which dials up the sparkle and glitter in the feature. This one is a fitting pick for all glamorous events and outfits.
If you are inherently attracted to all things pink and blush-colored, then this is a ring that will have you at first glance. Featuring a chunky Morganite at the center flanked by two smaller diamonds, this ring is pink inside out. The featuring stones are blush-toned and they are set on a rose gold band that mirrors their muted hue. The ring with its design and color has a vintage flair about it which easily takes a center-stage anywhere. 
The Blue Beauty 
The thing about blue is that it could be anybody's color and so is this gorgeous ring that will make you fall for it instantly. Featuring a gorgeous blue topaz at the center and pale blue diamonds on the sides, this ring is a beauty to behold. The sky blue color of the topaz bleeds into the light blue diamonds on the sides darkening their muted tones and making them look parts of the center stone. The overall visual effect is gorgeous. 
If you are a person with an independent mind and a wild spirit, a cocktail ring will definitely agree with your taste. Buy it off the shelf or custom-build it with your jeweler, with a cocktail ring in your collection, you will always have a fancy ultra-stylish go-to piece of jewelry to sport for the prestigious events. So show off your bold taste in jewelry with a stunner cocktail ring. 
Leave a comment
Comments will be approved before showing up.
---
Also in Articles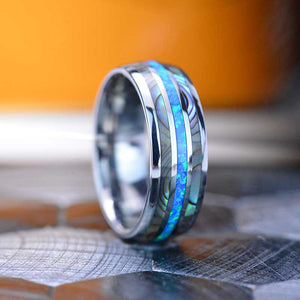 Unveiling the Timeless Elegance: Tungsten Rings with Abalone Shell and Crushed Opal Inlays for Men
In the world of men's fashion, finding a ring that perfectly combines style, durability, and distinctiveness can be a challenging task. However, the search ends with the mesmerizing allure of tungsten rings adorned with abalone shell and crushed opal inlays. These exquisite rings offer an extraordinary blend of natural beauty, rugged strength, and artistic craftsmanship, making them an ideal choice for modern men who seek to make a bold and unique statement.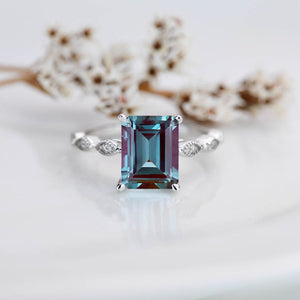 Embracing Eco-Friendly Jewelry: The Beauty of Recycled Gold and Lab-Grown Stones
In recent years, the world has witnessed a growing awareness and concern for the environment, leading to a surge in demand for sustainable and eco-friendly products. The jewelry industry, often associated with resource-intensive practices and environmental concerns, has not been immune to this shift. As consumers become more conscious of their choices, eco-friendly jewelry crafted from recycled gold and lab-grown stones has emerged as a popular and ethical alternative. In this article, we explore the beauty and significance of eco-friendly jewelry, shedding light on the benefits it offers to the environment and why it's becoming a preferred choice among jewelry enthusiasts.