December birthstone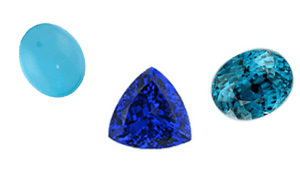 The last month of the calendar year is the second month of the year which has as many as three gemstones associated as birthstones. These three stones are zircon, turquoise and tanzanite. The color blue is the common factor between these three stones. Another thing common to all three is that they are all moderately priced yet exquisitely beautiful.
Zircon either gets confused with a similar sounding cubic zirconia or similar looking diamond. People sport colorless, reddish or golden hued versions of this stone, but the blue zircon is the most appropriate birthstone for December. This gemstone is believed to keep away evil spirits and induce restful slumber. Many believe it brings untold prosperity. One amazing scientific fact about zircon is that it is the oldest mineral, and hence it can provide useful clues about the origins of the earth.
The second birthstone of December is tanzanite, which is composed of a mineral called zoisite. The most commonly purchased color for buying tanzanite is blue, although it is not as hard as the sapphire it looks like. Although the first samples of tanzanite were found less than 60 years back by Masai herders in Tanzania, but within a short while this gemstone has become one of the most popular choices of people interested in gemstone jewelry.
The last birth stone for the last month of the year is turquoise. This stone has such a distinctive shade of blue that it has a color named after it. It was first brought to Europe from Turkey in the 13th century, giving an indication of the background of this name. Turquoise has been popular with ancient civilizations and modern people alike because of its pristine beauty.
Several of these birth stones have been used by reputable jewelers like Giliarto in their high quality jewelry as well.
Leave a comment
Comments will be approved before showing up.
---
Also in Articles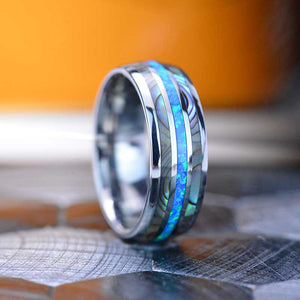 Unveiling the Timeless Elegance: Tungsten Rings with Abalone Shell and Crushed Opal Inlays for Men
In the world of men's fashion, finding a ring that perfectly combines style, durability, and distinctiveness can be a challenging task. However, the search ends with the mesmerizing allure of tungsten rings adorned with abalone shell and crushed opal inlays. These exquisite rings offer an extraordinary blend of natural beauty, rugged strength, and artistic craftsmanship, making them an ideal choice for modern men who seek to make a bold and unique statement.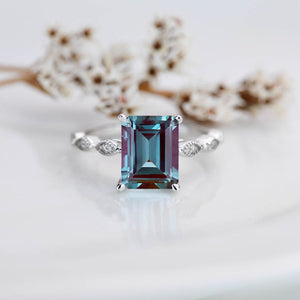 Embracing Eco-Friendly Jewelry: The Beauty of Recycled Gold and Lab-Grown Stones
In recent years, the world has witnessed a growing awareness and concern for the environment, leading to a surge in demand for sustainable and eco-friendly products. The jewelry industry, often associated with resource-intensive practices and environmental concerns, has not been immune to this shift. As consumers become more conscious of their choices, eco-friendly jewelry crafted from recycled gold and lab-grown stones has emerged as a popular and ethical alternative. In this article, we explore the beauty and significance of eco-friendly jewelry, shedding light on the benefits it offers to the environment and why it's becoming a preferred choice among jewelry enthusiasts.