Happy shopping for no-blood diamonds!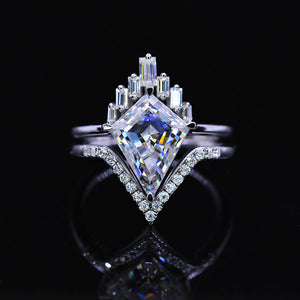 Diamonds are a girl's best friend. Yes! The sparkle and shine will bring a smile to your lips. You get to pay a King's ransom for making the beautiful gemstone your own too. But at what price? Is the act of adorning your person more important than the well-being of planet Earth?
Surely not!
That's why we have taken a pledge that will give you the best of both worlds. In short, you get the opportunity of wearing a magnificent piece of jewelry without adding to the carbon footprint. Well, we are obsessed as you are with diamonds, but we have chosen to take the ethical way out. We produce spectacular diamonds in the laboratory. You will not be able to tell the difference in the least. The lab processed diamonds created under high pressure and extremes of temperature will bring you the delightful diamond.
No worries!
The lab diamond that you hold in the palm of your hand is a replica of the naturally mined stone. You will be intrigued to learn that its chemical composition is identical to the real diamond. However, you do not have to wait for thousands of years for those tiny diamonds to form or take shape. We promise to hand it over to you within 2 to 3 weeks.
You do not have to check and recheck your bank balance while contemplating such an investment either. You will be able to have the most spectacular diamond without blowing up your savings in one go. Well, you are bound to fall in love at the very first glance. Unable to tell the difference from an authentic diamond, the 4 Cs will mesmerize you as you get what you want.
You are in for a treat if you are not too enthused about wearing any man-made gemstones. Opt for Moissanite, the second hardest natural stone in the world. It will outshine all other diamonds easily too. Weighing 9.5 on a Moh scale of hardness just .5 behind the genuine diamond, moissanite has plenty going for it too.
Sure, moissanite won't be colorless, but you get a myriad of hues in the rainbow-like reflection. We have an exclusive collection of moissanite that is definite to win you over. Come select the enchanting emerald-cut stone and delight in its color, clarity, and weight. Remember, it is free of inclusions and will do justice to you whether you craft it into a ring, earring, or pendant. We have all possible fancy cuts just like the diamond but in moissanite. Besides, you are welcome to shop for the traditional round and oval cuts.
You stand to get the best when you shop for conflict-free lab diamonds from us. Feel free to personalize your ring to create a style statement. White or black, colored or colorless, we have everything you want and more. Do ask for resizing, if the new engagement ring did not fit. Remember that we offer a lifetime warranty for manufacturing defects. However, we firmly believe you will be 100% satisfied with our products.
Happy shopping for no-blood diamonds!
Leave a comment
Comments will be approved before showing up.
---
Also in Articles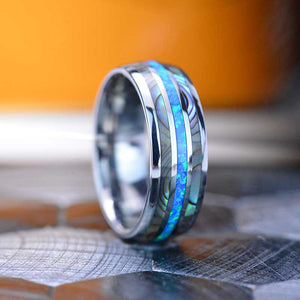 Unveiling the Timeless Elegance: Tungsten Rings with Abalone Shell and Crushed Opal Inlays for Men
In the world of men's fashion, finding a ring that perfectly combines style, durability, and distinctiveness can be a challenging task. However, the search ends with the mesmerizing allure of tungsten rings adorned with abalone shell and crushed opal inlays. These exquisite rings offer an extraordinary blend of natural beauty, rugged strength, and artistic craftsmanship, making them an ideal choice for modern men who seek to make a bold and unique statement.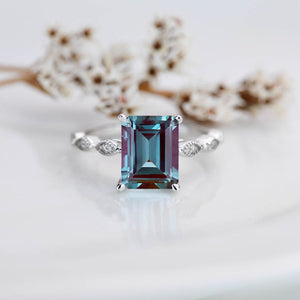 Embracing Eco-Friendly Jewelry: The Beauty of Recycled Gold and Lab-Grown Stones
In recent years, the world has witnessed a growing awareness and concern for the environment, leading to a surge in demand for sustainable and eco-friendly products. The jewelry industry, often associated with resource-intensive practices and environmental concerns, has not been immune to this shift. As consumers become more conscious of their choices, eco-friendly jewelry crafted from recycled gold and lab-grown stones has emerged as a popular and ethical alternative. In this article, we explore the beauty and significance of eco-friendly jewelry, shedding light on the benefits it offers to the environment and why it's becoming a preferred choice among jewelry enthusiasts.