How to Design a Custom Engagement Ring for Her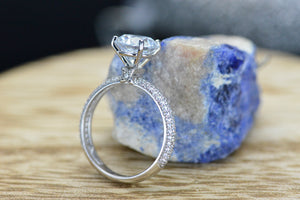 Those of you who are not psyched to go down the beaten path of proposing with a ring which in all probability has an exact match out there somewhere will find the idea of custom engagement rings appealing. If I have your attention, here are some tips to design an engagement ring for the lady you love.   
Start with the Gem
Most people will tell you to look around and rake up ideas before you go into the technicalities, but such groundworks amount to nothing if you are not set on the kind of gemstone you want to see on the ring. So, even before you start scanning the galleries, decide what stone it's going to be. There are only two ways to go. It's either a diamond, if she is into it, or anything untraditional if that appeals to her more. Once you have made up your mind on that, now let's move to the next step.  
Spot the Style that Compliments Hers
Most people complain how protracted and confusing shopping an engagement ring for her can be. Oftentimes, the process gets unnecessarily complicated due to a lack of direction. If you know what style she will love, it's hardly difficult from there on out. So, you need to figure out that style first before you get into the designing part. If you don't know what her taste in jewelry is like, pick a style you think will compliment hers. 
Produce an Image that's Closest to the Final Piece
Now you are free to look around and gather ideas. Get inspirations from online galleries and put them together in a ring. If you are not up to that, then share the images of your choosing with the designer and let him prepare the sketch for you. 
Leave a comment
Comments will be approved before showing up.
---
Also in Articles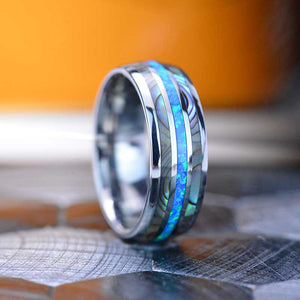 Unveiling the Timeless Elegance: Tungsten Rings with Abalone Shell and Crushed Opal Inlays for Men
In the world of men's fashion, finding a ring that perfectly combines style, durability, and distinctiveness can be a challenging task. However, the search ends with the mesmerizing allure of tungsten rings adorned with abalone shell and crushed opal inlays. These exquisite rings offer an extraordinary blend of natural beauty, rugged strength, and artistic craftsmanship, making them an ideal choice for modern men who seek to make a bold and unique statement.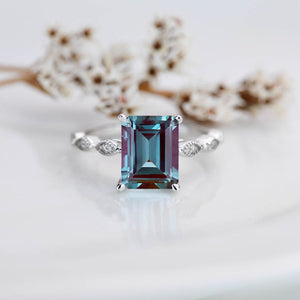 Embracing Eco-Friendly Jewelry: The Beauty of Recycled Gold and Lab-Grown Stones
In recent years, the world has witnessed a growing awareness and concern for the environment, leading to a surge in demand for sustainable and eco-friendly products. The jewelry industry, often associated with resource-intensive practices and environmental concerns, has not been immune to this shift. As consumers become more conscious of their choices, eco-friendly jewelry crafted from recycled gold and lab-grown stones has emerged as a popular and ethical alternative. In this article, we explore the beauty and significance of eco-friendly jewelry, shedding light on the benefits it offers to the environment and why it's becoming a preferred choice among jewelry enthusiasts.