January birthstone - Garnet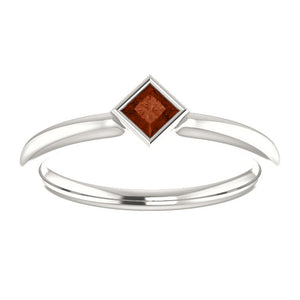 Just like each period of 30 days is associated with a particular horoscope sign, similarly each birth month has come to be associated with a certain gemstone. It is believed that the number twelve ties all of this together – there are twelve months in a year and there are twelve signs in the zodiac. So each of the signs of the zodiac came to be associated with a particular month. And for each month, the properties of a certain gemstone were found to be most similar, and said to impact the people born in that month. Gemstones have traditionally been believed to have great powers to provide luck, prosperity and good health.
Let us start off with the first month of the year – January. The gemstone associated with the month of January is called Garnet. There are so many colors associated with this beautiful gemstone, from the flaming orange to the vibrant green. But the base color of the garnet gemstone is dark red. Garnet is said to be a beacon of light during the dark nights and prevent the wearer from being tormented by the dark spirits of the night. In historical days, travelers who used to venture into terrain unknown and far from their own homes were said to keep a garnet gemstone on their person to ward off the chance of accidents. The word garnet has been derived from the Latin word granatus, which means seed-like. The garnet stone looks like a pomegranate seed in profile.
The main theme of a garnet gemstone might be to protect the wearer, but its stunning beauty makes it a popular choice for use in jewelry as well. There are good online jewelers like Giliarto who can provide you the best quality of designs of different kinds of jewelry including gemstones and diamonds.
Leave a comment
Comments will be approved before showing up.
---
Also in Articles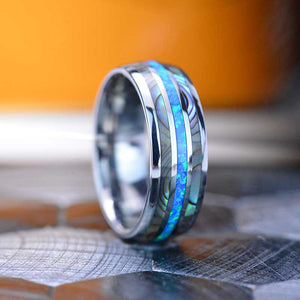 Unveiling the Timeless Elegance: Tungsten Rings with Abalone Shell and Crushed Opal Inlays for Men
In the world of men's fashion, finding a ring that perfectly combines style, durability, and distinctiveness can be a challenging task. However, the search ends with the mesmerizing allure of tungsten rings adorned with abalone shell and crushed opal inlays. These exquisite rings offer an extraordinary blend of natural beauty, rugged strength, and artistic craftsmanship, making them an ideal choice for modern men who seek to make a bold and unique statement.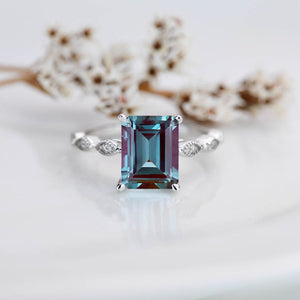 Embracing Eco-Friendly Jewelry: The Beauty of Recycled Gold and Lab-Grown Stones
In recent years, the world has witnessed a growing awareness and concern for the environment, leading to a surge in demand for sustainable and eco-friendly products. The jewelry industry, often associated with resource-intensive practices and environmental concerns, has not been immune to this shift. As consumers become more conscious of their choices, eco-friendly jewelry crafted from recycled gold and lab-grown stones has emerged as a popular and ethical alternative. In this article, we explore the beauty and significance of eco-friendly jewelry, shedding light on the benefits it offers to the environment and why it's becoming a preferred choice among jewelry enthusiasts.