The Rarest Gems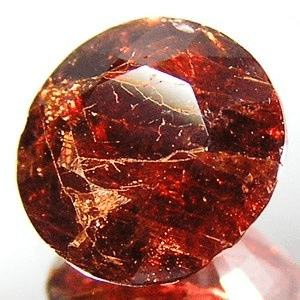 Gemstones enthrall us with their beauty and elegance. The shine, the dazzle and the bright colors keep us enthralled and awestruck. But our attraction to gemstones is not just because of their physical beauty. What also amazes us is that gemstones are not commonly found anywhere or mass manufactured for easy distribution. The biggest contributor to a gemstone's value in our eyes is its rarity. Even among the 200 odd varieties of gemstones, a few are more difficult to find than others, making them rarer and therefore more valuable. This is a sample of four of the world's rarest gemstones :
Painite :

This is one of rarest gemstones found, and the first sample was mined as recently as 1957. But in these 6 decades, only another 25 or so samples of this stone have been mined. It is only in recent years that some more samples have been mined in Myanmar.

Bixbite :

This gemstone is commonly referred to as red beryl or red emerald, and it needs thousands of gem quality diamonds before one perfect red beryl can be obtained. The best quality of beryl is colorless, but small traces of impurities in it imparts different hues, including red, to it.

Alexandrite :

One of the reasons this gem is so attractive is because it exhibits different colors depending on whether it is observed in sunlight or incandescent light. Technically this gemstone is a chrysoberyl, but it gets its common name from one of the erstwhile Russian rulers because it was first mined in Russia.

Larimar :

This rare gemstone comes from the Dominican Republic, which is the only country where this turquoise colored gemstone is found. Even in that country, there is only one specific area where it is found. It draws part of its name to Larissa, the daughter of the first man to mine it.
Leave a comment
Comments will be approved before showing up.
---
Also in Articles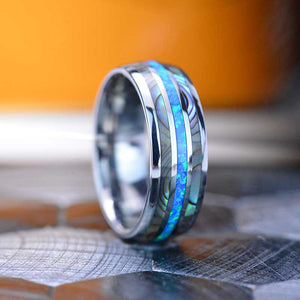 Unveiling the Timeless Elegance: Tungsten Rings with Abalone Shell and Crushed Opal Inlays for Men
In the world of men's fashion, finding a ring that perfectly combines style, durability, and distinctiveness can be a challenging task. However, the search ends with the mesmerizing allure of tungsten rings adorned with abalone shell and crushed opal inlays. These exquisite rings offer an extraordinary blend of natural beauty, rugged strength, and artistic craftsmanship, making them an ideal choice for modern men who seek to make a bold and unique statement.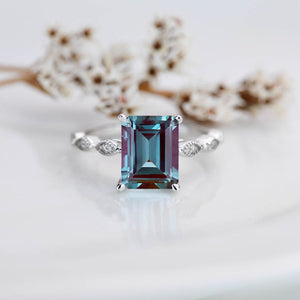 Embracing Eco-Friendly Jewelry: The Beauty of Recycled Gold and Lab-Grown Stones
In recent years, the world has witnessed a growing awareness and concern for the environment, leading to a surge in demand for sustainable and eco-friendly products. The jewelry industry, often associated with resource-intensive practices and environmental concerns, has not been immune to this shift. As consumers become more conscious of their choices, eco-friendly jewelry crafted from recycled gold and lab-grown stones has emerged as a popular and ethical alternative. In this article, we explore the beauty and significance of eco-friendly jewelry, shedding light on the benefits it offers to the environment and why it's becoming a preferred choice among jewelry enthusiasts.