Top 10 popular symbols of love for your personalized jewelry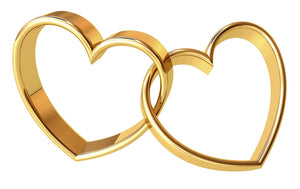 Throughout the history and literature numerous symbols have been used to embody, express, and strengthen love. Symbols of love from around the world have found their way into all cultures.  Different civilizations have adapted popular love symbols in unique ways.
But what is the meaning of this short, four-letter word: LOVE?
The word characteristically describes an affection that is deep and sentimental. Love is a manifestation of emotion. Love is completeness and emptiness, happiness and sadness, joy and pain, freedom and submission, blessing and curse, Nirvana and Hell… It is the greatest gift God ever gave man. "Love is patient, love is kind. It does not envy, it does not boast, it is not proud. It is not rude, it is not self-seeking, it is not easily angered, it keeps no record of wrongs. Love does not delight in evil but rejoices with the truth. It always protects, always trusts, always hopes, always perseveres." (Anonymous, Holy Bible: New International Version). Love is completely unconditional, selfless, and complete acceptance. It is the best feeling belonging to each and every life living on this earth. Love is divine and vast and the purest motive force.
There are many ways to express the infinity of love to someone. Words sometimes can't reflect the passion and emotional connection we feel. Symbols of love help us to describe our hidden sentiments which we cannot otherwise depict. Jewelry is a wonderful symbolic way to convey our deep passion. Quality jewelry can help people feel special as diverse pieces emphasis their personal features and favorite outfits.
Creating inspirational jewelry with BellaWe grants you the possibility to choose from a wide selection of styles you like best. Make your jewelry exquisite and unique that can always reflect your love and generous spirit. Given its distinctive look and history, well-made custom designed jewelry can make a love gift even more meaningful.
Here is a collection of top 10 popular symbols of love that grab attention of everyone and help to design your truly unique jewelry with your own personal message:
Heart is the most common and recognizable symbol for love. The heart has long been used as a symbol to refer to the spiritual, emotional, and moral principal of a human being. The ancient Egyptians held that the heart was the seat of both life and morality. In Ancient Greece the human heart was thought to contain one's soul. A special version of the symbol linked to the figure of Christ and his spiritual talents has spread throughout the centuries together with Christianity. It began popping up often in stained-glass windows and other church iconography. Hearts increased rapidly when the exchange of Valentines gained popularity in 17th-century England.
Cupid is the Roman winged god portrayed with his bow and arrows, "because love wounds and inflames the heart." He is a god of desire, embodiment of courtship and love. He is the naughty son of war god Mars and the goddess of love, Venus. In current culture, Cupid is frequently shown shooting his bow to encourage passionate love. Cupid carries two kinds of arrows, one with a sharp golden point, and the other with a blunt tip of lead. A person wounded by the golden arrow is filled with uncontrollable desire, but the one struck by the lead feels reluctance and desires only to flee. Generally Cupid is shown blindfolded in art that symbolizes the blindness that people suffer when they are in love.
Apple has been used in many popular legends and stories as both a symbol of good (love, youth, and beauty) and evil (sin, lust, discord). It is commonly used as a symbol of love. In Greek mythology the apple is associated with Aphrodite, the goddess of love. Dionysus, the god of wine, offered apples to woo Aphrodite and win her love. Certainly, love or lust has led many men to sin. The Serpent tempted Eve to eat from the Fruit of Knowledge, which led to sin and the fall of man. The apple also symbolizes life and the circle of life. In early Greek history a happy couple might share an apple as a symbol of their marriage and hopes for a fruitful relationship. In China they represent peace, and apple blossoms are symbol of women's beauty.
Infinity symbol signifies eternity, empowerment, everlasting love and friendships. The unique characteristic of the shape is that it has no beginning and no end. Reminds us that love is in fact unlimited and the depth and vastness of this love is not bound by time or place. Infinity symbol means the everlasting bond between two persons which will never fade, even if these individuals are separated for a long period of time. Very often lovers show their affection to each other through an infinity symbol, in order to express the eternal love and devotion to each other. In modern era infinity symbol jewelry has recently reappeared as a very popular fashion trend.  The use of this symbol in jewelry has grown significantly and it can be found widespread across the globe.
Rose is the ultimate form of expression of divine and romantic love. In Ancient Greece the rose was sacred to Aphrodite and was her emblem of beauty. It was said to grow from the blood of Adonis. In Rome a wild rose would be placed on the door of a room where secret or confidential matters were discussed. The rose has always been particularly esteemed in Christianity as the symbol of Heaven and celestial bliss, and in particular it is one of the most common insignia of the Virgin Mary. Rose is said to be the queen of flowers. Roses come in different colors and each color of rose means different emotions. Yellow signifies a joyful love, red represents passion and immortal love, and pink symbolizes first love.
Key and heart lock may be the perfect symbol for the unbreakable bond of love between two people. The key icon represents opening doors of chances or holding the key to one's heart. When given as a gift, the key symbolizes wishes the sender wants to convey. Heart, lock and key jewelry are extremely powerful symbolically. Lock and key jewelry or the lock necklace is used to signify a secured, sometimes secret love connection. "Key to someone's heart" is given as a symbol of entrusting someone with your heart. Present a friend or loved-one a piece of lock and key jewelry, and you are presenting them a piece of your loyalty. A key can symbolize new beginnings as you open the door to new possibilities.
Claddagh ring is a traditional Irish ring, which represents love, loyalty, and friendship. The history of the Claddagh ring dates back to over 300 years. A small fishing village in Ireland where the tradition of the Claddagh rings goes back. The Claddagh's particular design features two hands holding a heart, and usually surmounted by a crown. Hands denote friendship and devotion, the heart itself symbolizes love, and the crown in the Claddagh ring represents fidelity. They were used as engagement and wedding rings in medieval and Renaissance Europe. Nowadays, because of its deep and true meaning, Claddagh ring is an ideal choice for all occasions, engagement and wedding rings, mother's day, and any other occasion.
Strawberries symbolize spring and rebirth, as well as righteousness and love. The varied meanings come from different faiths and cultural traditions. According to the legend sharing a double strawberry tempts love and carnal desire, and forms a link between two souls. Strawberries were traditionally served to newlyweds at their wedding day feast in order to bless the union with sweetness, fertility, and love. The delicate heart-shaped berry is believed to possess a gentle aphrodisiac effect. A French noblewoman at the time of Napoleon, Madame Tallien, used to bathe regularly in strawberry juice. During the medieval times strawberry designs were painted on altars and pillars of churches to symbolize perfection and justice.
Doves are used in a variety of settings as symbols of love, peace or as messengers. Doves are mate for life and therefore were used as a symbol of "fidelity." If one dove is separated from its mate through death, the other will not mate again. Depictions of two doves together symbolize everlasting love. Doves are often released by couples on their wedding day as a symbol of purity and to signify the beginning of their new life together. Lovers are said to "bill and coo" like doves. It is believed that if a dove flies into your life, you are being asked to go within and release your emotional disharmony. The dove is a symbol of the Holy Spirit in Christian iconography. In Slavic folklore doves were believed to accompany the souls of the dead to heaven.
Starfish and shell are universal and heavenly symbols of infinite divine love. In Christian symbolism the starfish can also symbolize the Virgin Mary "who lovingly creates safe travel over troubled waters and is also seen as an emblem of salvation during trying times". The Starfish is also a symbol of healing and regeneration due to its amazing ability to regrow their limbs when they lose them. Shell represents the protective quality love sometimes takes. Aphrodite, the Greek goddess of love and beauty was born from shell. The Hawaiians use the conch shell at weddings. This is to awaken the faithful and calls to those who have hearts full of love. The Native Americans have also used seashells to symbolize fertility and love.  
Leave a comment
Comments will be approved before showing up.
---
Also in Articles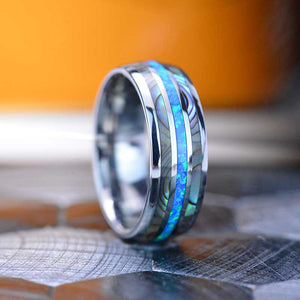 Unveiling the Timeless Elegance: Tungsten Rings with Abalone Shell and Crushed Opal Inlays for Men
In the world of men's fashion, finding a ring that perfectly combines style, durability, and distinctiveness can be a challenging task. However, the search ends with the mesmerizing allure of tungsten rings adorned with abalone shell and crushed opal inlays. These exquisite rings offer an extraordinary blend of natural beauty, rugged strength, and artistic craftsmanship, making them an ideal choice for modern men who seek to make a bold and unique statement.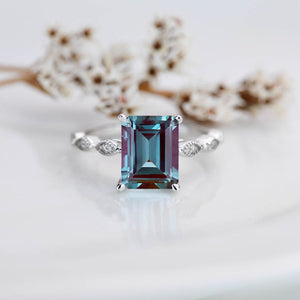 Embracing Eco-Friendly Jewelry: The Beauty of Recycled Gold and Lab-Grown Stones
In recent years, the world has witnessed a growing awareness and concern for the environment, leading to a surge in demand for sustainable and eco-friendly products. The jewelry industry, often associated with resource-intensive practices and environmental concerns, has not been immune to this shift. As consumers become more conscious of their choices, eco-friendly jewelry crafted from recycled gold and lab-grown stones has emerged as a popular and ethical alternative. In this article, we explore the beauty and significance of eco-friendly jewelry, shedding light on the benefits it offers to the environment and why it's becoming a preferred choice among jewelry enthusiasts.