Top 10 Popular Valentine's Day Jewelry Gifts for Her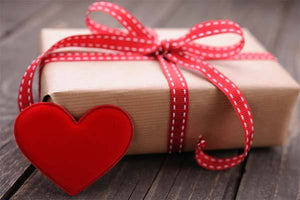 Valentine's Day is a phenomenal occasion to celebrate feelings of love, affection and friendship. It's an ideal event to express admiration and devotion for the one you love. Personalized jewelry makes an especially expressive gift for Valentine's Day because they capture the sense of true love in a wearable relic. Custom jewelry designs recommend free personalization for jewelry items, so that you can create individual one-of-a-kind gifts for each of your Valentines. If you are looking for truly unique Valentine's Day gifts, which are glorious expressions of romantic love, we invite you to consider the following top 10 popular Valentine's Day jewelry gifts for Her. If you're thinking to steer away from the traditional red roses, boxes of chocolates, green Valentine's Day frogs this year and want to give something special for your ladies, this article will help you design and carry out many stunning and unforgettable jewelry gift ideas. Immerse in the splendor and magnificence of Valentine's Day!
Valentine's jewelry comes in many diverse varieties, like feelings of love. Valentine's Day gift inspiration needs to come from your depth of your heart. Everyone knows what a heart means. Hearts are symbolic of love, endlessly romantic allegory, and it can substitute the word "love" when words aren't enough to express your feelings. When giving the gift of heart shaped jewelry, a message is carried. Heart shaped jewelry, which is a spontaneous symbol of your faithfulness, is a perfect Valentine's Day gift. This occasion is the ideal time to propose your true love with a personalized engagement or promise ring. Rings are usually reserved for romantic, lifetime relationships, like marriage. An extraordinary brilliant diamond ring, that will take her breath away, is a unique expression of a long-term promise, deep love, and eternal loyalty.
If you're not ready to get engaged but feel devoted to her, consider a fabulous bracelet that expresses your devotion to her. Bracelets will impress any woman on this romantic day. Sparkling with diamonds, dangling with elegant charms, and gleaming with sentiments of love, a bracelet can make a memorable Valentine's Day gift for her. It can be customized with a message from the heart with a sweet romantic engraving on the back. Bracelets come in thousands of styles. A yellow or white gold diamond tennis bracelet is a principal piece of any luxurious jewelry collection. An elegant - a gift of the sea – pearl bracelet will go with almost everything and is a great way to let someone special knows she is special for you.
Whether you're looking for a jewelry gift for a wife, girlfriend, mother, sister, daughter or granddaughter, you should find a dazzling gift that's sure to impress and enchant. A necklace is a brilliant option for almost any Valentine's Day situation. The gleam and blaze around her neck is a sure way to amaze her and touch her heart. Beautiful necklaces come in a wide selection of precious metals, styles, and prices. To express your heartfelt feelings of love and affection come up with a magnificent gemstone necklace that will make her yours truly. Shock her with a diamond necklace in every glorious style. Consider a personalized name necklace with her name or engrave both of your names together. Pearl necklaces are timeless. A classic strand of white pearls is a lovely Valentine's Day jewelry gift. If she has unusual taste, you can choose something more exceptional and modern, like black, grey, and blue pearls.
Diamonds are a classic Valentine's Day gift, but if you've already given her several diamond rings, bracelets or necklaces, consider some breathtaking precious stone earrings.  Classic, creative or modern styled - long, short, large hoop or stud - earrings set with exceptional pearls and precious stones are perfect jewelry to emphasize the beauty of a face and reflect taste and elegance. Your little Darling is one in a milliard, so wouldn't you rather give her a pair of this ultimate signal of exclusivity and excellence?  A pair of ruby red love heart stud earrings surely will make your lovely lady fall in love with you all over again. Heart-shaped diamond studs are also delightful for this amorous holiday. Lovely and always classic Akoya or Tahitian cultured pearl earrings mounted on attractive white or yellow gold are perfect for women who have a classic, sporty style because they aren't fussy at all. The softness and shine of pearls symbolize a distinctive divine connection between you and your devotee.
Every woman needs a place for her most prized possessions. Jewelry boxes for girls and women are part of a tradition that's as important and beautiful as the treasures they hold. Jewelry and keepsake boxes are some of the most common options for preserving a jewelry collection. They come in a wide variety of styles and sizes and you can choose the perfect one regardless of the size of your Valentine's collection. Some jewelry boxes have myriad compartments, drawers, trays, and velvet slots for rings. Others contain mirrors, clocks, or mechanical music-makers. A mini treasure chest is a great gifting idea to your loved ones, which is a gem in itself to carry all their trinkets in a pretty style. Her favorite jewelry, a love note or letter, a photo of a romantic occasion – give her a place for the treasures of her heart with a personalized keepsake box. A heart shaped skillfully engraved 'I Love You' personalized jewelry box, including sentimental, meaningful and unique words, is a perfect gift for Valentine's Day.
Grandma is a very special lady of the family, one you can always count on to be there for you.  She always deserves a gift that recognizes her importance in a lovely and personal way. Gifts for granny can be tricky sometimes to find just the right thing. When you're looking for a surprise for her you want to find something super-thoughtful idea for Valentine's Day. With a personalized gift for grandma you can remind her every day how much she means to you. Any grandmother will love to wear custom birthstone pendants. Give grandma a heart shaped personalized birthstone family pendant - featuring the birth stones of her children and grandchildren - that will touch her heart and remind her how much you respect her! Birthstone necklaces are a great way to keep your family and loved ones close to your heart. Engraved messages of love and faith or grandma's favorite memories will fill her eyes with tears each time your grandmother reads them.
If you're single, the best possible way to pass the holiday is celebrating Valentine's Day with your best girlfriend. The wonderful bond that you share with a friend merits to be admired with a place on her sterling silver charm bracelet. Charms for bracelets come in thousands of styles in both gold and silver, glass and pearl, diamond or birthstone studded, allowing you to create a truly meaningful Valentine's Day gift. The silver-colored charms make every bracelet and every chain a complete highlight and an extremely individual fortune-endowing gift. Best friend heart shaped charms, playful designs of enamel charms, and initial charms makes them perfect for telling a story. Give a friend charm to honor the person that makes your soul blossom. Charms can also decorate zipper pulls, shoes, handbags, a bouquet of flowers, and a wide range of household objects and pieces of ornaments. Valentine's Day themed cute cell phone charms and stickers are becoming more and more popular.
Time takes on new meaning this Valentine's Day, as people search for the perfect gift for the woman of their dreams. A feminine-looking watch is a gift that is sure to impress any woman on this most romantic holiday, whether the special lady in your life is your wife of decades or your girlfriend of a couple of months. It's a perfect accessory to complete your wife or girlfriend outfits and have her thinking of you every time she glances at her wrist. A watch is always a functional yet stunning piece of jewelry, which surely catches the gleam in her eyes. There are a host of great watches on the market and all of them make a great statement of love. Whether you're looking for an elegant timepiece for an evening out, an attractive women's watch to wear at work, a casual watch for everyday wear, or a festive watch to wear on special occasions, it is the best to choose the one that will match her lifestyle.  Beautiful Swarovski crystal accented watches can come in a variety of styles that are suitable for different careers and hobbies.
A costume jewelry pin or brooch can say a lot about a woman. A brooch is a basic, classic jewelry item and it's no longer just reserved for our grandmothers. Women love these chic pieces and they make a great gift for women of any age. Whether you are looking for charming designs featuring animals, flowers, insects, geometrics, heart, fantasy, vintage or antique brooches, they are all about putting your style where everyone can see it. Brooches are a distinctive, multifaceted and glamorous accessory that can be worn so many ways. They are stylishly pinnable to dresses, sweaters, hats, cardigans, belts, and scarves. A Valentine's award heart brooch is a fun way to tell your friends and family that they are award winner loved ones. These gorgeous pieces of jewelry complete your outfits and make you stand out from the mass. A beautiful heart or heart and arrow brooch, crafted of silver, gold, brass and various other metals, is one that celebrates perfectly the romance of Valentine's Day.
If your lady looking for a ring that draws every eye in the room, a cocktail ring might be for her! A cocktail ring, also known as a cluster ring and dinner ring, is an impressive ladies ring with a large center stone often surrounded by small stones. These rings emit drama and splendor. Almost all oversized rings for women can be called "cocktail". This is the most common type of ring in costume jewelry. They are very popular for dressy or formal occasions. Cocktail rings are supposed to catch and blind the eye, and should come across as luxurious and exaggerated. Cocktail rings are produced from both costume and fine gems and other materials. There are 18K cocktail rings with huge stones and also cocktail white gold rings and cocktail yellow gold rings in combination with shiny diamonds and colored precious stones. They are dazzling accessories, yet tasteful, stylish and modern. Adorning the hands of the beautiful lady, cocktail rings would always catch up the light and attract attentions.
These are just a few suggestions of the great Valentine's Day jewelry gift ideas we offer for you. No matter what you buy, it will make a wonderful surprise because she will appreciate the particular attention you put into buying the gift. Most of us would agree with Brian Tracy's words, "The greatest gift that you can give to others is the gift of unconditional love and acceptance".
Leave a comment
Comments will be approved before showing up.
---
Also in Articles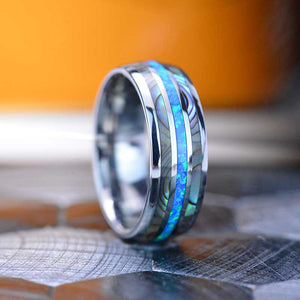 Unveiling the Timeless Elegance: Tungsten Rings with Abalone Shell and Crushed Opal Inlays for Men
In the world of men's fashion, finding a ring that perfectly combines style, durability, and distinctiveness can be a challenging task. However, the search ends with the mesmerizing allure of tungsten rings adorned with abalone shell and crushed opal inlays. These exquisite rings offer an extraordinary blend of natural beauty, rugged strength, and artistic craftsmanship, making them an ideal choice for modern men who seek to make a bold and unique statement.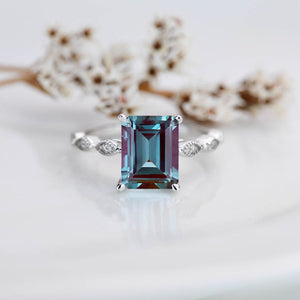 Embracing Eco-Friendly Jewelry: The Beauty of Recycled Gold and Lab-Grown Stones
In recent years, the world has witnessed a growing awareness and concern for the environment, leading to a surge in demand for sustainable and eco-friendly products. The jewelry industry, often associated with resource-intensive practices and environmental concerns, has not been immune to this shift. As consumers become more conscious of their choices, eco-friendly jewelry crafted from recycled gold and lab-grown stones has emerged as a popular and ethical alternative. In this article, we explore the beauty and significance of eco-friendly jewelry, shedding light on the benefits it offers to the environment and why it's becoming a preferred choice among jewelry enthusiasts.