Top 10 Popular Valentine's Day Jewelry Gifts for Him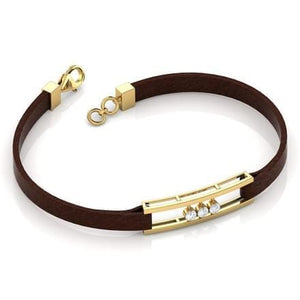 Valentine's Day is knocking on the doors! Wondering what gift to get him this romantic day? Men can be tricky and hard to buy Valentine's presents for, especially when you're looking for that particular gift item to express 'I love you.' Every woman wishes something that will put a smile on the face of her husband, fiancé, boyfriend, dad or brother. Now it is your turn to find something that will mean the world to him and make sure that the special man in your life feels heartily appreciated. Fashionable jewelry for men can display confidence and an attention to detail like little else can. You have to get something that is romantic and yet still masculine and that is not always easy. We've certainly put together a delightful selection of romantic, guy-friendly and simply individual jewelry gift ideas for men that will show them how much you care. If you are looking for a sentimental treasure or something unique and contemporary, take a look at the below top 10 popular Valentine's Day jewelry gifts for him that are sure to light up his face, bring you two closer, or heat things up, and make your Valentine's Day you won't soon forget. Definitely you will find the perfect gift on this list for every type of man!
Men's fashion is much steadier than the trends set for the ladies. Men's signet ring is a traditional classic, which date back many centuries and have been the same for time immemorial. Rings signified wealth, power and status; boldly present an expression of personalization and individuality. Today a signet ring is still considered a mark of the elegant gentleman and makes a powerful style statement. Part of the attraction of signet rings is that they go with almost every outfit, and they make meaningful conversation pieces. A very manly, timeless and unique signet ring can be worn day to night and in any occasion. Exquisitely made and attentively custom engraved signet rings with his favorite sayings, special romantic words or personal dates are the perfect way to create a truly personalized and sentimental gift for Valentine's Day. Some men have a passion for antiques and still prefer Celtic and Egyptian designs; others would rather keep things a lot simpler and stick to the engraving of their initials. Before buying your man in your life a signet ring, you need to determine what kind of person your significant is.
If you were waiting for the perfect moment to express your love for your Valentine guy, say it now with an amazing necklace with a pendant, which can be worn close to his heart, cementing your love and devotion. Men's necklaces create a subtle statement about a man's image and style. Some men can't resist gold or sterling silver; others love the bold look of titanium or stainless steel; and others prefer other contemporary metals. If you're looking for a classic and traditional necklace or something more urban, but at the same time modern, there are a wide range of men's necklaces, chains and dog tags which are perfect for the fashion conscious male. Nowadays, dog tags for men are more popular than ever. A vast variety of gold dog tags are available in multiple gold colors and diamonds, which are suitable to be passed down as family inheritances. Whether you choose an antique or modern one for your fashion centered spouse or dad, a religious piece or one decorated with a skull, there is definitely an affordable choice for everyone in the market!
Cufflinks are exquisite Valentine's Day gifts to steal his heart and embellish his cuffs. A unique pair of cufflinks will surely make a remarkable present for your beloved partner. They are more than just men's fittings. Cufflinks are signs of sophistication and can make the men who wear them look elegant. There are various styles including novelty, traditional, contemporary, utility, humorous, and even custom-made cufflinks that are appropriate for both day and evening wear, so you're sure to find a suitable pair that will fit to his personality. Cufflinks are great for adding some extra style to his shirt on any celebratory occasion and are guaranteed to impress him on his special day. USB Flash drive cufflinks are perfect for the well-dressed businessman. These types of cufflinks combine fashion and function and they are perfect gift idea for the man who needs to take his must-have presentations and important documents on the road with him. They can be personalized by engraving the backing with initials, memorable dates or names. So you could inscribe on it any romantic personalized message that would make your darling very happy.
If the man of your dreams has a fascination for watches, then this Valentine's neglect conventional gifts and complete your man's wardrobe with a wrist watch. A watch is an intensely personal gift that will probably last for the wearer's entire lifetime. Every man can appreciate a multi-functional watch for everyday wear. It's the perfect romantic signal, which really makes a statement about the longevity of love and definitely sends an amorous message to him this Valentine's Day. A watch is a versatile gift and it can be tailored to a man's personal sense of style. The best way to find the perfect watch is to look at the different types of watches available. Made out of a premium quality material, an analog watch is long lasting and durable and can wear out during his casual days. Give your partner a Swiss sport watch that is multipurpose, unique, exclusive and affordable or a beautiful handmade water-resistant automatic watch, crafted to emphasize his masculinity. Different movement types (quartz, mechanical, automatic) found in men's watches are also important when buying a watch.
Need a show-stopping gift for the man in your life? Show him that you love and appreciate him with a stylish bracelet. Bracelets have become quite popular over the last two or three years as many men decided to incorporate them into their wardrobes. Metal bracelets, especially ID bracelets, represent the most masculine wrist wear option, largely due to their military connotations. They are best worn as standalone, solo pieces. Although men's jewelry comes in many metals, gold remains the most popular, and not only for its splendor. Gold bracelets for men can add subtle refinement under a blazer's sleeve or showcase toned arms with a fitted T-shirt. If your special someone is going for a more delicate and decent look, then silver would be preferable. You can personalize an already awesome sterling silver bracelet with a message from the heart that makes the bracelet much meaningful for him. Men are already accustomed to wearing leather on their wrists in the form of watch straps. Leather carries a bold and desperate fashionable look. Hints of leather are a great way to express inner rebel without going overboard.
If your loved one is a pen-person, collector or simply has a passion for writing you should consider to gift him a unique luxury pen for Valentine's Day. Their exceptional character and outstanding functionality make these fine writing instruments distinctive tools for self-expression. Luxury pen gift sets make classic gifts for those men, who appreciate timeless elegance and enjoy the beauty and distinctiveness of a gorgeous writing gadget. Countless designs, sizes and styles of luxury pens mean hundreds of options from fountain pens to ballpoint pens, mechanical pencils to ink and other writing accessories. If you know your Valentine well, then you would have an idea of the brand of pen and type the person prefers. Exclusive luxury pens can also be printed, engraved, embroidered. One of the nice things to do at Valentine's Day time is to give a pen with a personal touch. Many of the classic brands of pens can be engraved with a name and date on the barrel or simply have an initial added. This makes the gift all the more special. Engraved pens are a classic that keeps on giving year after year.
Tie clips are another great gift for the man who has to wear a suit for work or who simply loves to dress up and look good. Every man loves to wear a tie clip for any formal or informal occasion. A tie clip keeps a neck tie properly attached to the underlying dress shirt and provides a nice line of contrast and interest. There are many different styles that can help keep a tie in place, like tie tacks, tie clips or tie bars, tie chains, tie stick pins. The bar or clip design is perhaps the most popular kind of tie clip nowadays. They can be found in many different metals, shapes and even with diamonds, rubies or other jewels affixed to it and adorned with engravings or other design elements. The color of the tie is worth taking into consideration when choosing a tie bar but there are no hard and fast rules. If your man likes to wear busy or patterned ties, find a basic tie clip. Surely, a basic design tie-clip in a precious metal like gold or silver is elegant, luxurious and meaningful gift to men to show your affection and good taste. Let him know just how much he means to you with an engraved hidden message on the back of the tie clip with the words of your choice.
Belt buckles are an easy way to create a unique sense of style. Belt buckles are often identified with different fashion styles. Some of them are definitely more fashionable than functional. From the ornate to the classic square, buckles can vary drastically in not only look but in price. Many buckles are made from some type of metal, such as brass or pewter, silver, metal and steel, but some buckles are made from leather or even wood. A plain metal buckle will be the ideal complement to a dark business suit, while a decorative metal buckle, such as one adorned with turquoise, will look sharp with a pair of jeans and a white shirt. Dress belts typically have very small, flat belt buckles. Larger buckles with rounded shapes are common on more casual styles. Almost all dress belts will have either a gold-colored or silver-colored finish. If your man wears male jewelry of any kind the belt should be in the same color family. Silver accents should go with a silver belt buckle and gold with gold. A wedding ring is always an exception. The ring is understood to be a gesture independent of his personal style.
If he is the one who is always there to unlock the doors of happiness and love for you, you will not find a more subtle, simple gift for him for Valentine's Day, than a personalized keychain. Keychains today are becoming more and more a fashion or personality statement that can help to compliment an outfit. A keychain can be and often is about more than just carrying one's keys. Many people choose to collect keychains based on a certain theme. Key chains are handy and are a great way to express your messages and feelings. Gift a great engraved leather or stainless steel keychain as an individual gift. He will never forget his keys again with a unique customized keychain. Add his photos, monograms, a name, logo or text done in quality laser engraving to create a lasting treasure. High-end fashion designer brands produce key chains exhibiting a logo enclosed in leather or in sterling silver. These keychains are usually heavier and more expensive than other alternatives. A designer brand key chain is a sophisticated and timeless way to convey personal style and it will be a light on his pocket and a lovely token of appreciation.
Romance your man with a thoughtful gift like money clip! Men's money clips make great alternatives to traditional wallets. Even though wallets come in all shapes and sizes, money clips are a great way to carry money as they are small, compact, lightweight and minimal. They are considered a slight fashion accessory and are designed to be eye-catching. A basic metal money clip consists of one long piece of sterling silver, stainless steel, titanium, gold-colored alloys or metal that is folded specifically to clamp down on its contents, keeping the cash and cards tightly secured. Many models even come with convenient credit card holders in the form of additional clips or pockets. This allows carrying all the necessary cards, like debit cards, ID cards, bus passes, and access cards for work. This elegant and attractive alternative can tuck neatly into the breast pocket of a blazer or hide discretely in the side pocket of a pair of trousers. Metal and leather options are the most popular. But for those who desire premium finish, black diamond and titanium nitride finish money clips and even ones with a pure gold ingot mounted on them are also available.
Leave a comment
Comments will be approved before showing up.
---
Also in Articles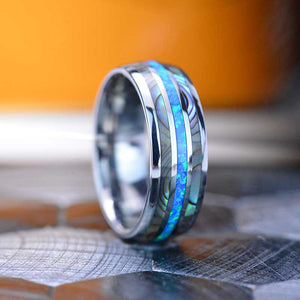 Unveiling the Timeless Elegance: Tungsten Rings with Abalone Shell and Crushed Opal Inlays for Men
In the world of men's fashion, finding a ring that perfectly combines style, durability, and distinctiveness can be a challenging task. However, the search ends with the mesmerizing allure of tungsten rings adorned with abalone shell and crushed opal inlays. These exquisite rings offer an extraordinary blend of natural beauty, rugged strength, and artistic craftsmanship, making them an ideal choice for modern men who seek to make a bold and unique statement.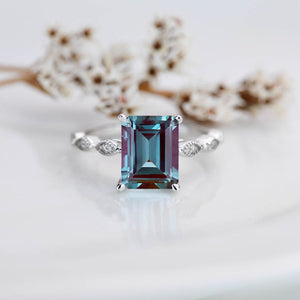 Embracing Eco-Friendly Jewelry: The Beauty of Recycled Gold and Lab-Grown Stones
In recent years, the world has witnessed a growing awareness and concern for the environment, leading to a surge in demand for sustainable and eco-friendly products. The jewelry industry, often associated with resource-intensive practices and environmental concerns, has not been immune to this shift. As consumers become more conscious of their choices, eco-friendly jewelry crafted from recycled gold and lab-grown stones has emerged as a popular and ethical alternative. In this article, we explore the beauty and significance of eco-friendly jewelry, shedding light on the benefits it offers to the environment and why it's becoming a preferred choice among jewelry enthusiasts.