What are the semi-precious stones?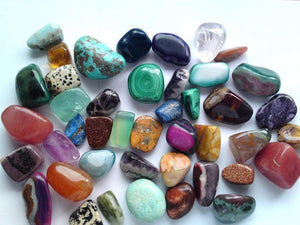 There are close to 300 types of gemstones that have been identified and mined across the world. Four of these gemstones are classified as precious stones – diamond, ruby, emerald and sapphire. All other gemstones apart from these 4 stones are called semi precious stones. This classification has been in circulation for almost two centuries, although gemologists often scoff at this simplistic distinction and push for doing away with it. If we look closely at some so-called semi precious stones we would realize that their contention is not without merit.
There are several commonly bought gemstones which have the tag of semi-precious attached to them. We refer to agate, jade, moonstone, onyx, lapis lazuli, topaz, aquamarine, turquoise and garnet as semi precious stones, among many others. But let us look into them closely to see if this label is right.
The first aspect of preciousness is the value of a gemstone. So if a particular stone is not precious but only semi precious, it must be lesser in value, right? Not always. The Aurora Australis Opal sold for a million dollars 14 years back. There are red beryl gems which have a much higher cost per carat than many so called precious gems. Some jades have been sold for $25000 as well. So all semi precious stones needn't be cheaper in value.
Another property we associate with the word precious is if something is rare to find. But for many semi precious stones, that too might not always be true. You would find some semi precious stones only in a specific country or region, with very few being mined.
People often carry a misconception that a semi precious stone might not be that attractive. But there are several such stones which are awesome to look at and also of a much better grade. The grade of a gemstone would only depend on the clarity of reflected light from a stone.
Leave a comment
Comments will be approved before showing up.
---
Also in Articles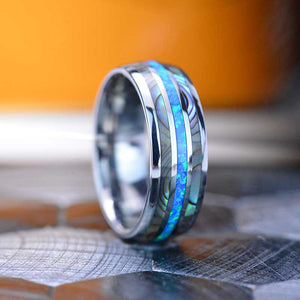 Unveiling the Timeless Elegance: Tungsten Rings with Abalone Shell and Crushed Opal Inlays for Men
In the world of men's fashion, finding a ring that perfectly combines style, durability, and distinctiveness can be a challenging task. However, the search ends with the mesmerizing allure of tungsten rings adorned with abalone shell and crushed opal inlays. These exquisite rings offer an extraordinary blend of natural beauty, rugged strength, and artistic craftsmanship, making them an ideal choice for modern men who seek to make a bold and unique statement.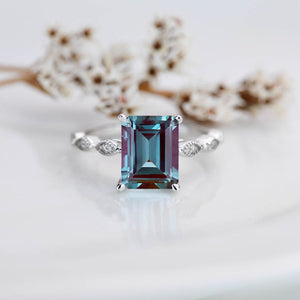 Embracing Eco-Friendly Jewelry: The Beauty of Recycled Gold and Lab-Grown Stones
In recent years, the world has witnessed a growing awareness and concern for the environment, leading to a surge in demand for sustainable and eco-friendly products. The jewelry industry, often associated with resource-intensive practices and environmental concerns, has not been immune to this shift. As consumers become more conscious of their choices, eco-friendly jewelry crafted from recycled gold and lab-grown stones has emerged as a popular and ethical alternative. In this article, we explore the beauty and significance of eco-friendly jewelry, shedding light on the benefits it offers to the environment and why it's becoming a preferred choice among jewelry enthusiasts.