What Does a Black Diamond Stand for?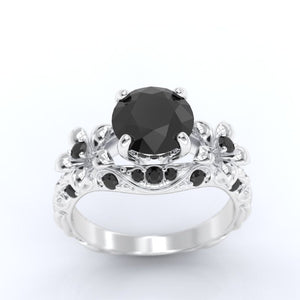 Black diamond is the new sensation that has caught the hearts and minds of buyers worldwide. Loved for its enigmatic appeal and exquisite aesthetics, this stone has rapidly been rising the ranks of popularity. In the light of its mercurial rise, one wonders what a black diamond stand for.
A black diamond has been interpreted widely by cultures, jewelers and astrologers worldwide. Here is what it means:
Romance and Relationships
In love and relationships, it means immortal or undying love. That interpretation reserves it a special place in the engagement and anniversary ring aisle. It is believed that the black diamond can help a person who has been unlucky in love find true love and a fitting companion.
It is also used to convey feelings and emotions of love and romance to certain people. Wearers may also find their relationships getting stronger because of a black diamond.
Fortune and Wealth
A black diamond is also conducive to the accumulation of wealth and rise in business. The stone can awaken latent and hidden talents in a wearer edging them closer to success.
It helps reawaken passion and work up their magic. It is also said to enable wearers by building leadership power and skills in them. With a black diamond, one can expect to see results for their hard work the absence of which often leads people to give up.
Positive Energies
Black diamonds are also a potential source of positive energies. It endows the wearers with charming personalities and help them overcome the hurdles along the way and conquer their limitations.
It also protects the heart and mind from emotional blows. A wearer of a black diamond would profit from pursing career in technology.
So if you are for originality and standing out, black diamond is the stone to pick.
Leave a comment
Comments will be approved before showing up.
---
Also in Articles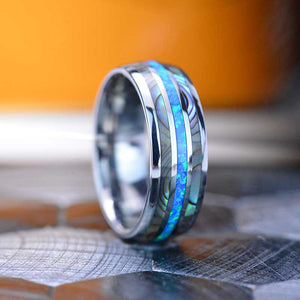 Unveiling the Timeless Elegance: Tungsten Rings with Abalone Shell and Crushed Opal Inlays for Men
In the world of men's fashion, finding a ring that perfectly combines style, durability, and distinctiveness can be a challenging task. However, the search ends with the mesmerizing allure of tungsten rings adorned with abalone shell and crushed opal inlays. These exquisite rings offer an extraordinary blend of natural beauty, rugged strength, and artistic craftsmanship, making them an ideal choice for modern men who seek to make a bold and unique statement.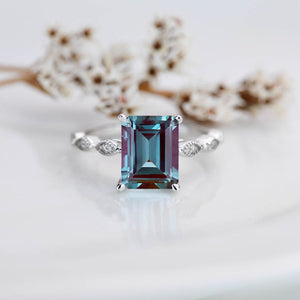 Embracing Eco-Friendly Jewelry: The Beauty of Recycled Gold and Lab-Grown Stones
In recent years, the world has witnessed a growing awareness and concern for the environment, leading to a surge in demand for sustainable and eco-friendly products. The jewelry industry, often associated with resource-intensive practices and environmental concerns, has not been immune to this shift. As consumers become more conscious of their choices, eco-friendly jewelry crafted from recycled gold and lab-grown stones has emerged as a popular and ethical alternative. In this article, we explore the beauty and significance of eco-friendly jewelry, shedding light on the benefits it offers to the environment and why it's becoming a preferred choice among jewelry enthusiasts.