What is cubic zirconia?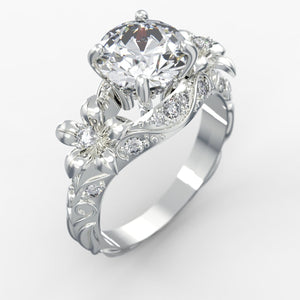 Cubic zirconia is a very popular alternative to a diamond. The reasons are twofold – they are as beautiful as diamonds, maybe more beautiful, and they come at a much lower price. Cubic zirconia is a synthetic gemstone manufactured in a laboratory. Because of similar sounding names, cubic zirconia is often confused with another gemstone called zircon. Normally it is colorless, and because it is synthetically manufactured, hence it usually doesn't have any of the rays of color due to impurities. But when viewed at the correct angles, it gives out flashes of bright colors too.
Gemologists and jewelers use the 4C matrix to determine the worth of any gemstone. These 4 things are Color, Clarity, Cut and Carat. For cubic zircona, five tiers represent gradually increasing quality. Grade A refers to the lowest quality, whereas 5As (AAAAA) represent the best quality. You would encounter such grading more when you buy cubic zirconia from wholesalers.
Because of its beauty, cubic zirconia is commonly used as a gemstone in jewelry. But it has a lesser hardness of 8.5 on the Mohs scale, therefore it can be slightly more prone to scratches than other gemstones. But people still prefer it because a scratched stone can be easily replaced owing to its lower price. Maintenance of a cubic zirconia encrusted piece of jewelry is also much easier. Home remedies include the use of mild dishwashing detergents which can restore the earlier shine which reduces due to age. For a more professional touch, many people use an ultrasonic cleaner. Because it is slightly more prone to scratches or other damage, it is better to store cubic zirconia jewelry in a small box rather than dump it with other metal and gemstone jewelry.
If you are able to take good care of it, a piece of cubic zirconia jewelry can be a cost effective yet attractive alternative to much costlier gemstone jewelry.
Leave a comment
Comments will be approved before showing up.
---
Also in Articles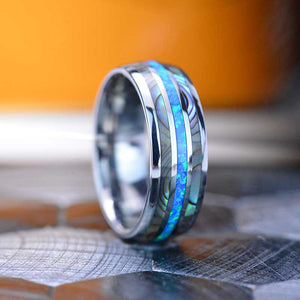 Unveiling the Timeless Elegance: Tungsten Rings with Abalone Shell and Crushed Opal Inlays for Men
In the world of men's fashion, finding a ring that perfectly combines style, durability, and distinctiveness can be a challenging task. However, the search ends with the mesmerizing allure of tungsten rings adorned with abalone shell and crushed opal inlays. These exquisite rings offer an extraordinary blend of natural beauty, rugged strength, and artistic craftsmanship, making them an ideal choice for modern men who seek to make a bold and unique statement.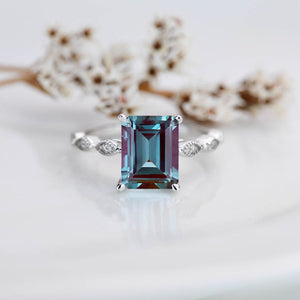 Embracing Eco-Friendly Jewelry: The Beauty of Recycled Gold and Lab-Grown Stones
In recent years, the world has witnessed a growing awareness and concern for the environment, leading to a surge in demand for sustainable and eco-friendly products. The jewelry industry, often associated with resource-intensive practices and environmental concerns, has not been immune to this shift. As consumers become more conscious of their choices, eco-friendly jewelry crafted from recycled gold and lab-grown stones has emerged as a popular and ethical alternative. In this article, we explore the beauty and significance of eco-friendly jewelry, shedding light on the benefits it offers to the environment and why it's becoming a preferred choice among jewelry enthusiasts.