What's Making Tungsten Rings So Enormously Popular?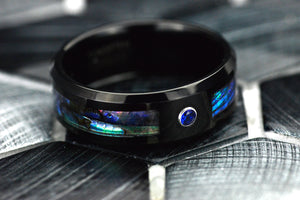 Tungsten metals were introduced in the market some years back as an alternative to exorbitantly expensive precious metal rings. Slowly and steadily, these rings have rose through the ranks to come on top. Today, tungsten rings are one of the most popular choices of men's rings. There are tons of reasons why you want to give tungsten rings a try. Read on if you want to know the reasons behind their rising popularity. 
First of all, it is scratch resistant, and that's not any particular type of tungsten rings. All tungsten rings qualify for the scratch-resistant tag, because the metal itself is so. 

Secondly, tungsten rings are more easily affordable than any other variants in the market. The rings have a nice weight to them, and also in terms of looks, they are a catch. You can hardly tell by the way they look that they are so affordable.

Thirdly, tungsten rings are very wearable. They are easy to wear and take off on a daily basis. It has higher wearability than even gold. 

Another thing that is making these rings so popular is hardness and durability. A gold band may deform over time, a platinum band may lose its shine, but not a tungsten ring. Being a hard metal, it is not prone to scratches or damages. 

A tungsten ring is also hypoallergenic, like platinum. That's why people looking for hypoallergenic options in a lower price range find tungsten a worthy alternative. Even people who are allergic to popular metal jewelries are now turning to tungsten to find interesting alternatives.

Tungsten bands are no longer just black. Tungsten wedding bands now come in different plating. The gun metal grey color is still there, but along with those are white gold, yellow gold and rose gold plated versions that both stylish and expensive-looking. 
Leave a comment
Comments will be approved before showing up.
---
Also in Articles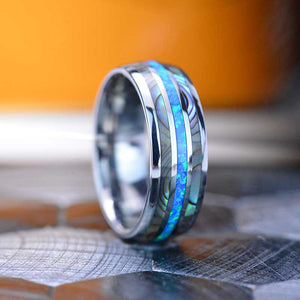 Unveiling the Timeless Elegance: Tungsten Rings with Abalone Shell and Crushed Opal Inlays for Men
In the world of men's fashion, finding a ring that perfectly combines style, durability, and distinctiveness can be a challenging task. However, the search ends with the mesmerizing allure of tungsten rings adorned with abalone shell and crushed opal inlays. These exquisite rings offer an extraordinary blend of natural beauty, rugged strength, and artistic craftsmanship, making them an ideal choice for modern men who seek to make a bold and unique statement.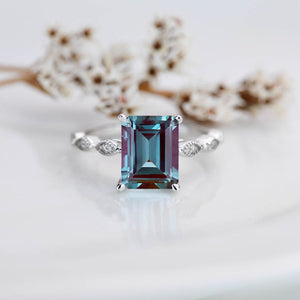 Embracing Eco-Friendly Jewelry: The Beauty of Recycled Gold and Lab-Grown Stones
In recent years, the world has witnessed a growing awareness and concern for the environment, leading to a surge in demand for sustainable and eco-friendly products. The jewelry industry, often associated with resource-intensive practices and environmental concerns, has not been immune to this shift. As consumers become more conscious of their choices, eco-friendly jewelry crafted from recycled gold and lab-grown stones has emerged as a popular and ethical alternative. In this article, we explore the beauty and significance of eco-friendly jewelry, shedding light on the benefits it offers to the environment and why it's becoming a preferred choice among jewelry enthusiasts.