Why Gray Moissanite Is The Best Choice For Your Engagement Ring In 2021?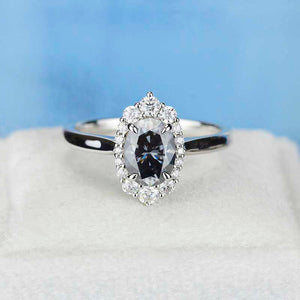 If you've been thinking about taking your relationship to the next level, it's time to go hunting for an engagement ring. And finding 'the' engagement ring is easier said than done. On one hand, you want to find an exceptional and exquisite ring. On the other, you don't want to go bankrupt in the process. Not as elementary it sounded at first, eh?
Diamond engagement rings need no introduction! They have been serenaded as the biggest sellers and most stunning of all jewelry. Diamond rings were forever favorite, until a growing clamor for budget, beautiful rings unsettle their stronghold in the wedding jewelry industry. The sheer transparency of colorless diamonds has slowly given way to more interesting and vibrant color palette.
All these conversations about moving away from the certainty of diamonds without breaking the bank have landed us in the world of moissanite! At Giliarto, you can find the ideal balance of these two ends. An array of moissanite engagement rings crafted to perfection will meet the necessities of even a fussy customer.
What exactly is moissanite?
Moissanite is a sparkling gemstone born of the stars. First discovered as microscopic particles in a meteorite crater in Arizona, moissanite boasts of a celestial past. Discovered by Henri Moissan, the French Nobel Laureate scientist in 1893, the glorious moissanite was at first mistaken as diamond. However, he later determined these cosmic crystals were built of silicon carbide.
The otherworldly origin of natural moissanite establishes its rarity. Nonetheless, jewelers around the world wanted to recreate the magic of this radiant gemstone. Hence, the rare moissanite was regenerated in advanced laboratories. Most of the moissanites available today across jewelers are laboratory-created. After years of technical experiments and series of trial and error, the particular particles discovered by Moissan were synthesized with success. And it went on to make what is now considered as one of the most scintillating gems in the world.
Moissanite: Gemstone for the environment friendly, responsible buyer
The growing popularity of moissanite brings into focus its versatility. Not just its durability or brilliance, moissanites are the ideal choice of individuals who want to indulge in responsible luxury. As moissanites are created in the controlled ambiance of a laboratory, they leave no mining damage in their wake. If you are seeking an ecologically conscious gemstone that does not compromise on the looks section either, opt for moissanite and nothing else.
Moissanites neither harm Mother Earth with mining nor do they involve human rights violation during the sourcing process. They are a more ethical choice compared to their shiny, mined counterparts.
Why go for moissanite and not its more expensive brethren?
If the pandemic stricken 2020 proved to be diabolical, it is a good idea to save for a rainy day. And excess splurging on a ring that most of the time can't be worn for daily chores, decidedly sounds disturbing. A gorgeous way to select something as special as an engagement ring within a budget requires you to innovate.
Opting for moissanite instead of the frighteningly expensive diamond is the very first step toward achieving your dream. You can simply elevate your choice by choosing something even more surreal for the central stone. A gray moissanite offers the intrinsic subdued elegance missing in a colorless diamond. Gray moissanite engagement ring is everything you can imagine in an out-of-the-box creation.
Colorless moissanites are dazzling, the gray moissanite is even more so!
The color of strength, gray has been ushered in as the 'Pantone Color of The Year 2021', along with sunshine yellow. Called 'Ultimate Gray', this shade of gray strikes a fine balance between chaos and calmness. It is aspirational and offers a message of hope and optimism. Gray is all about human fortitude and resilience. It expresses the second chance nature gave us to regenerate and reimagine.
There are many shades of gray. Books have been written about them! But the brilliance and smoothness of gray moissanite can rarely be superseded by few gems. There are darker hues of gray, there are lighter, and then there are something in-between. Grays also blend one or more colors to generate something even more luscious. Gray-blue and gray-green are two of the most sought-after options. Their translucence and beauty are unsurpassed by white or near-colorless moissanites.
There are darker smoky moissanites with a golden sheen or the white-gray. These stones are unquestionably different from the common center stones you encounter every day. Highlighting this uniqueness can be only accomplished by an equally if not more fascinating base and plank structure.
Gray moissanites can be spectacularly complemented by both white metals and yellow gold. Nothing looks more amazing on the finger than an uncommon color. Rest assured about turning heads.
If you feel little more adventurous, combining the gray stone with specks of black moissanite will add a whole new dimension of boldness. Not just blacks, a gray moissanite can be successfully accentuated by even diamonds! You will be happily surprised by the view! Not many are ready to play with moissanites. And it's their loss! If you are searching for anything that looks similar to a diamond yet doesn't cost a fortune, moissanite is your safest bet.
The many designs of gray moissanite engagement rings
Selecting your gray moissanite engagement ring will be far from a smooth process. Get ready to be inundated by sizes, shapes, and silhouettes. Think of a center gray moissanite. The visual impact can be amplified with a detailed, elaborate setting. Smaller accent gemstones look good and are more affordable than one larger center stone.
You can create a dazzling look by investing in a smaller central moissanite with smaller accent diamonds. The halo engagement ring design idea is a great choice. It will feature a center stone totally encircled by smaller diamond accents that ultimately makes the center stone appear bigger than its actual size.
The three-stone setting is another intelligent option when you want to blend the many shades of gray moissanites. Two smaller stones on two sides of a slightly bigger center stone will result in a trendy look. Alternatively, three stones of varying shades of gray can be arranged in a lighter to darker shade series. There is no better way to flaunt the unlikely hues of uncommon gray moissanites. It will only add to the charm and impossibility of your engagement ring. Moissanites, more importantly gray moissanites, never fail to charm the wearer and its admirers alike.  
Custom designing your unique gray moissanite engagement ring
At Giliarto, you know what you're getting for your investment. Nothing run-of-the-mill. We specialize in custom-making where you get to design your own ring. Your urge to create something unconventional yet gorgeous is not missed on us.
Our Clio 3D personalization platform provides the best stage to custom-make your very own ring. It allows you to determine the preliminary design, choose the materials, observe the design process, and witness the final product – all in 3D. Unmatched by most other apps in the market, Clio developed itself to deliver nothing but perfection. It is accessible to all, easy to use, and realistically conceives every engagement ring idea you have in mind.
Celebrate the joy of togetherness with a custom-made gray moissanite engagement ring!
Reference images:
https://www.giliarto.com/collections/gray-grey-moissanite-rings
https://www.giliarto.com/collections/clio
https://www.giliarto.com/pages/clio
https://www.giliarto.com/pages/custom-design-request
Leave a comment
Comments will be approved before showing up.
---
Also in Articles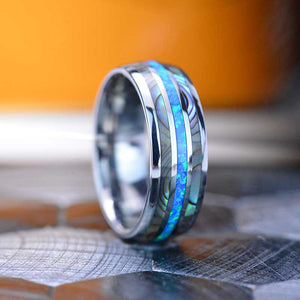 Unveiling the Timeless Elegance: Tungsten Rings with Abalone Shell and Crushed Opal Inlays for Men
In the world of men's fashion, finding a ring that perfectly combines style, durability, and distinctiveness can be a challenging task. However, the search ends with the mesmerizing allure of tungsten rings adorned with abalone shell and crushed opal inlays. These exquisite rings offer an extraordinary blend of natural beauty, rugged strength, and artistic craftsmanship, making them an ideal choice for modern men who seek to make a bold and unique statement.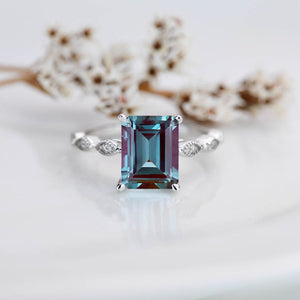 Embracing Eco-Friendly Jewelry: The Beauty of Recycled Gold and Lab-Grown Stones
In recent years, the world has witnessed a growing awareness and concern for the environment, leading to a surge in demand for sustainable and eco-friendly products. The jewelry industry, often associated with resource-intensive practices and environmental concerns, has not been immune to this shift. As consumers become more conscious of their choices, eco-friendly jewelry crafted from recycled gold and lab-grown stones has emerged as a popular and ethical alternative. In this article, we explore the beauty and significance of eco-friendly jewelry, shedding light on the benefits it offers to the environment and why it's becoming a preferred choice among jewelry enthusiasts.