Why personalized jewelry is the best gift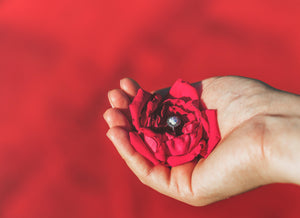 From the time when we were children, we have been enamored of the idea of getting gifts on any occasion. Even after growing up, it is always a great feeling to receive a gift. They say the value of a gift is immaterial, and you love any gift irrespective of how costly it is. But that doesn't stop us from loving valuable gifts like a topline phone or expensive jewelry. And if the jewelry is personalized with our name, we love it even more.
There are so many ways in which you can personalize a piece of jewelry which you plan to gift. You can add the initials of the receiver discreetly, so that it doesn't take anything away from the design, but someone who know it is there can easily find it. Initials can be stamped onto the jewelry, or you can write the first name or full name. Some people add a small quote or love message as well. If the jewelry you are gifting is made of stones or some metal other than gold, silver or platinum, then you can gift your jewelry in a particular color which has a special significance to the receiver.
There are so many reasons why personalized jewelry makes sense. Let us recount some of them :
The fact that you are giving a personalized jewelry as a gift shows that the receiver is very close to you, which is why you have taken the effort to decide how to personalize it and actually done it. This makes the gift even more valuable to the receiver.

A normal gift tends to lose its significance over time, or sometimes gets damaged or lost. But if you are gifting a personalized piece of jewelry, then you can be rest assured that this gift will be highly treasured by the receiver and preserved very carefully.

When you personalize the jewelry you are gifting, it makes the choice easier. The reason for this is that the personalization itself will delight the receiver so much that less attention will be given to the gift itself! So even if you go slightly wrong in the choice of jewelry, you can make it up by the thought of personalizing it.

When you gift a personalized piece of jewelry, you can be a hundred per cent sure of its uniqueness. The design, the metal, the color or any other characteristic of the jewelry might match the gift someone else has given, but by the simple act of personalizing it, you ensure that your gift will be unique.

Personalized jewelry would contain the initials or name or some other detail (like a quotation) of the receiver. That's why you can gift them to a receiver of any sex, age and gender.
There are many websites you can buy jewelry from, for gifting to someone close to you. But for personalizing that gift, you will need to look for a specialist jeweler who can do a fine job of personalizing your gift exactly as you want it.
Leave a comment
Comments will be approved before showing up.
---
Also in Articles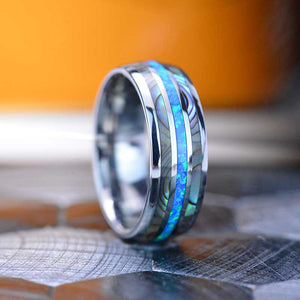 Unveiling the Timeless Elegance: Tungsten Rings with Abalone Shell and Crushed Opal Inlays for Men
In the world of men's fashion, finding a ring that perfectly combines style, durability, and distinctiveness can be a challenging task. However, the search ends with the mesmerizing allure of tungsten rings adorned with abalone shell and crushed opal inlays. These exquisite rings offer an extraordinary blend of natural beauty, rugged strength, and artistic craftsmanship, making them an ideal choice for modern men who seek to make a bold and unique statement.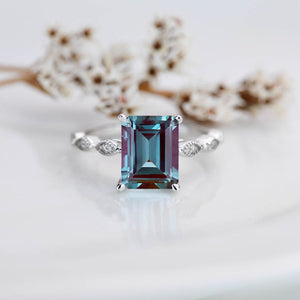 Embracing Eco-Friendly Jewelry: The Beauty of Recycled Gold and Lab-Grown Stones
In recent years, the world has witnessed a growing awareness and concern for the environment, leading to a surge in demand for sustainable and eco-friendly products. The jewelry industry, often associated with resource-intensive practices and environmental concerns, has not been immune to this shift. As consumers become more conscious of their choices, eco-friendly jewelry crafted from recycled gold and lab-grown stones has emerged as a popular and ethical alternative. In this article, we explore the beauty and significance of eco-friendly jewelry, shedding light on the benefits it offers to the environment and why it's becoming a preferred choice among jewelry enthusiasts.