Abalone Shell Jewelry, a Stunning and Affordable Option for Jewelry Lovers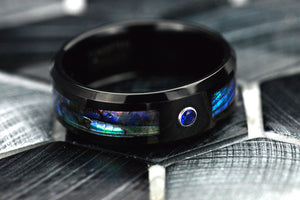 Abalone Shell Jewelry, a Stunning and Affordable Option for Jewelry Lovers 
For years, lovers of gems and jewelry have found themselves obsessing over nacreous shells. The "Mother of pearl" is one fine example. Another entrant that is newly gaining purchase among buyers is the abalone shell. If you haven't heard about it yet, it's time to catch up. 
This stunning, iridescent shell is making ripples in the market with its rare aesthetics. Displaying vivid colors and an awe-inspiring iridescence, the abalone shell is thousands of years old. Although it has started to garner attention only recently, this shell has been a part of jewelry for centuries. 
A great way to style up the wardrobe, abalone shell jewelry is both distinctive and lively. 
Origin
Abalone, a species of marine snails occur in cold waters. They are found in vast majority off the coasts of Australia, New Zealand and South Africa. Other parts of the world where these are found are in the coasts of North America and Japan. 
While sport harvesting of these shells happens in large measures in Tasmania and California, China and Japan lead the abalone shell farming industry. In South Africa, Abalone diving is a recreational activity that tourists and locals engage in during summer, but is getting increasingly tightened by illegal harvesting. 
Types of Abalone Shells
The abalone species diversity is huge. Just in North America, there are about seven different species. These are red abalone, pink abalone, white abalone, black abalone, green abalone, flat and pinto abalone. 
The colors they are identified by are the colors of the shells on the outside. Inside, the shells feature a surreal mix of colors topped by a nacreous sheen. 
All the species except the black ones feature textural exteriors. The black shells are smooth and sanded on the outside, and have fragile thinness. 
Shapes
Abalone shells found in cold water come in a wide variety of shapes and sizes. They start from 20 mm and go all the way up to 200 mm. The shells on the smaller side are less harvested than the bigger ones. 
In shapes too, Abalones vary widely. Irregularity is a common phenomenon in the shapes of these shells. Broadly, the shells are rounded or oval, with a convex structure. Some are flattened and unremarkable while others are highly arched and textured. 
Most abalone shells bear a flat spire and a couple of whorls. The body whorls give the shells an ear-like shape which accounts for the name "ear shell" that these go by. 
The Haliotis Asinina species of Abalone exhibits a different shape. These shells are visibly distended and bear an elongated form. They have spires that thrust outwards and prickly ribs that stand out. 
History
A favorite food of sea otters and some other marine animals, the abalones were first found in the Californian coasts when scattered iridescent shells were discovered on the beach. Found by Indian maidens, it was the Asians who thought to harvest the shells in the 1800s. 
Harvesting was done inter tidally back then due to a lack of sophisticated means of exploitation. But soon supply started to thin out and it wasn't until diving started in the early 1900s that harvesting began in earnest again. By mid-1900, abalone diving had become a fishery and sport activity on the coasts. It is believed that the amounts of catch made from 60s to 80s equaled, if not surpassed the volume of the commercial catch in that time. That caused the population of Abalone in the sporting areas to drop significantly. 
In the next subsequent years, severe El Niños and diseases further declined the numbers. Spurred by the decline in availability and skyrocketing of value, multicultural farms sprang up all around the world where abalones were raised in controlled environments. 
Although a biochemist by the name of Dr. Morse decried the spawning practice, his research led to a number of groundbreaking findings that help the farmers of today raise this species efficiently.  
In Jewelry
Abalone shells have very special aesthetic qualities which make them perfect for decorative items like jewelry. For long, the jewelry industry has used this shell for adornment. Cleaned and polished, these shells look magical and lustrous. The play of green, blue and purple on the inside of the shells in the forms of whorls and swirls make them distinctive and arresting. The mother-of-pearl linings on the shells give them the distinct iridescence they are so famous for. In jewelry, the shells lend an explosion of colors which any single variety of gem fails to conjure. 
The abalone shells are used in inlays and mosaics in vintage and vintage-inspired jewelry. Pairing perfectly with rose and yellow gold, abalone shell jewelry is sophisticated to look at. The shell is a popular adornment in Boho jewelry collections. Its peacock-like tones help bring out the wild and natural side of designs. 
Abalone shells are also very popular in minimalist jewelry ranges. Because of its vivid colors, even a sparing use of these shells create a potent aesthetic effect. That makes it a perfect decorating element for understated and minimalist jewelry. 
Abalone shells are also widely used in statement jewelry. Often seen in large pieces, these shells create a loud and bold effect which is preferred by select buyers. 
Popular Designs 
Abalone shell jewelry is simply stunning. Major retailers online and in the market carry their own assortments of abalone shell jewelry. Some of these pieces are handmade, and therefore exclusive, while others are machine-made and available with other pieces in the gallery. 
While all abalone jewelry pieces look fine and luxuriant, a few designs and styles have surfaced as more popular than others. One such design is the mix of gems and shells. With endless décor options in abalone jewelry, some jewelers have launched their exclusive lines featuring jewelry adorned with bits and pieces of shells and stones. Gorgeous and glamorous, those are also more expensive than the minimal kinds.
In minimal designs, chunky shells framed in slight metal settings in marine-themed shapes are a popular option. Light but bold, this design agrees with most buyers because of their aesthetic impact. 
Leave a comment
Comments will be approved before showing up.
---
Also in Articles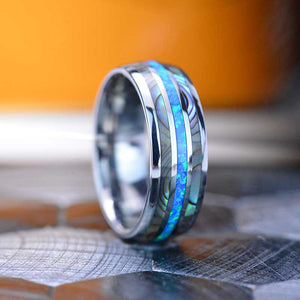 Unveiling the Timeless Elegance: Tungsten Rings with Abalone Shell and Crushed Opal Inlays for Men
In the world of men's fashion, finding a ring that perfectly combines style, durability, and distinctiveness can be a challenging task. However, the search ends with the mesmerizing allure of tungsten rings adorned with abalone shell and crushed opal inlays. These exquisite rings offer an extraordinary blend of natural beauty, rugged strength, and artistic craftsmanship, making them an ideal choice for modern men who seek to make a bold and unique statement.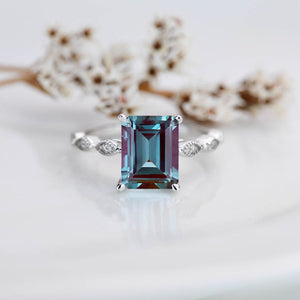 Embracing Eco-Friendly Jewelry: The Beauty of Recycled Gold and Lab-Grown Stones
In recent years, the world has witnessed a growing awareness and concern for the environment, leading to a surge in demand for sustainable and eco-friendly products. The jewelry industry, often associated with resource-intensive practices and environmental concerns, has not been immune to this shift. As consumers become more conscious of their choices, eco-friendly jewelry crafted from recycled gold and lab-grown stones has emerged as a popular and ethical alternative. In this article, we explore the beauty and significance of eco-friendly jewelry, shedding light on the benefits it offers to the environment and why it's becoming a preferred choice among jewelry enthusiasts.