Best Moissanite Engagement Ring Collection 2020

Best Moissanite Engagement Ring Collection 2020
Looking at the collections launched so far in 2020, there is no doubt that the Giliarto collection of Moissanite diamond engagement rings is by far the best. With yardsticks like aesthetics, artistry and affordability, we evaluated the pieces in the collection with impressive results. Inarguably, the following features are the best Moissanite engagement rings available thus far this year. 
High-Set Diamond Paved Band Ring 
Loved for its intense sparkle and glamorous looks, the Forever One is a gorgeous and stone-studded affair that takes one's breath away at the very first sight. Set with a chunky 2.0 carat diamond, this ring is embellished with 120 diamonds that accent the 14K white band all over. 
Vintage Styled Adorned-Shoulder Engagement Ring 
A grand engagement ring which is full of visual richness, this beautiful ring features a 2.0 carat Moissanite diamond up top. Ensuring the symmetry are two thick bands of diamonds that accent the shoulders heavily, dialing up the sparkle of the center stone by an infinite measure. Curved in 14K white gold, this spectacular ring contains 90 accent diamonds in addition to the center rock.
Ornate and Artsy Diamond Engagement Ring 
This exquisite diamond ring will make you go crazy with longing. An enviable piece of work, the ring features a shimmering 2.0 Carat Moissanite diamond at the center. Lowered into sturdy four prong setting, the ring is swathed all over with diamonds. Two flowers fitted with a diamond at the center each appear at the bottom of the center setting on both sides. Tasteful and imaginative, the design has a beautiful balladic quality to it.
Low Set, Paved Band Diamond Engagement Ring 
If you are trying to impress the woman in your life with your taste in jewelry, then this piece can surely be your big ticket. Fashioned with a low setting and a highly ornate band, this one features a blazing 1.0 carat Moissanite diamond. Appearing along the shoulders till the back are 26 natural diamonds that produce a fiery silhouette around the band.  
Open Shoulders, Diamond Packed Engagement Ring
A starry affair, this ring will make your heart skip a beat at first glance. Bold and boastful, the Orion features a 2 carat Moissanite center stone. The band is laden with an extraordinary count of natural stones that twinkles incessantly making the ring as beautiful as a real constellation. 
Split Shoulder Surprise Gem High Prong Diamond Ring 
A glittering piece of jewelry, this ring embodies a rare concept and takes it to the next level with unmatched craftsmanship. Featuring a chunky 2.0 Carat moissanite center stone in an elevated four prong setting, this 14K white gold features an extraordinary band which splits up into two at the shoulders. The top layer, sprinkled with accent stones rise to meet the setting whereas the bottom band curls up before uniting with the bezel-set diamonds that appear directly below the center setting. 
Floral Themed Grandly Embellished Diamond Ring 
A botanical marvel, the Lola features an ensemble of flowers and tendrils etched out of a solid 14K white band that supports its intricate design to an astonishing capacity. Adorned with a sparkling 2.0 carat diamond at the center, the ring features two delicate flowers on two sides and tendrils curved in filigree fashion topped with natural diamonds. 
Two Toned Gem Loaded Low Set Diamond Ring 
Luxuriant and extraordinary, this ring features a dense cluster of designs much of which appears in the profile view of the ring. Set with a 1 carat Moissanite diamond in a four prong low setting, the band glitters with shimmering white gems. The ring carries a total of 48 moissanite stones in the accent work. This ring is available in rose and white gold and yellow and white gold combination. 
High-Rise Center Stone, Trim and Sleek Band Ring 
If you have only eyes for jewelry that are less than ordinary, the Carmen is a ring that will hypnotize you for life. Gorgeous and delicate, this ring features a super elevated center stone secured in a clean looking minimal setting that contains four steely prongs and a girdle to hold the stone by the pavilion. At a visible distance from the stone, the band is another part that deserves independent attention. Paved and polished, the band wears an adornment of 100 diamonds that make the ring glow like it's on fire. 
Jeweled Set Diamond Engagement Ring  
A ring that makes an impression impossible to forget, the Mercedes is a stellar piece of work that exhibits top-notch craftsmanship and a hawkish attention to details. The ring features a 2.5 carat diamond on a jeweled four-prong setting that is beaming from every surface and crevice with tiny accent stones. The glitter work continues down the band adorning the shoulders on all three visible surfaces. The ring is a gift of a lifetime.
Here is a ring that is going to turn heads and drop jaws every time it makes a public appearance. Designed with love and panache, this remarkable ring features a dazzling 2.0 carat diamond up top on a highly elevated four prong setting. The band, sleek and rounded is packed with accent stones and detailed with the Milgrain pattern on the sides. Made of 14K white gold, the Camilla is a marvel to behold.
Decorated with a brilliant 1.3 carat diamond and topped with accent stones in the band, the Elenore is a modest ring curved for the woman with a taste for understated jewelry. The gentle elevation of the setting lets the center Moissanite catch the right amount of light to sparkle whereas the stone work on the band lightens up the simple rounded band. 
Flowery and elaborate, this gorgeous ring is a heart warmer. Set with a 2 carat Forewer at the center, the ring features intricately designed twin bands one of which is bedecked with medium sized accent stones and another with partial milgrain work. Sandwiched between the two is a dainty design that fills up the gap and lightens up the feature. 
2 Responses
Leave a comment
Comments will be approved before showing up.
---
Also in Articles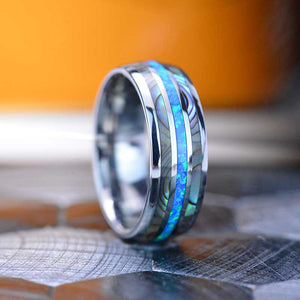 Unveiling the Timeless Elegance: Tungsten Rings with Abalone Shell and Crushed Opal Inlays for Men
In the world of men's fashion, finding a ring that perfectly combines style, durability, and distinctiveness can be a challenging task. However, the search ends with the mesmerizing allure of tungsten rings adorned with abalone shell and crushed opal inlays. These exquisite rings offer an extraordinary blend of natural beauty, rugged strength, and artistic craftsmanship, making them an ideal choice for modern men who seek to make a bold and unique statement.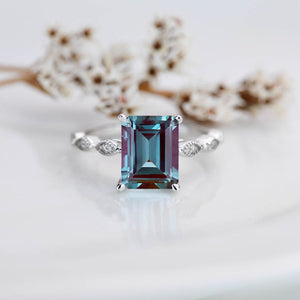 Embracing Eco-Friendly Jewelry: The Beauty of Recycled Gold and Lab-Grown Stones
In recent years, the world has witnessed a growing awareness and concern for the environment, leading to a surge in demand for sustainable and eco-friendly products. The jewelry industry, often associated with resource-intensive practices and environmental concerns, has not been immune to this shift. As consumers become more conscious of their choices, eco-friendly jewelry crafted from recycled gold and lab-grown stones has emerged as a popular and ethical alternative. In this article, we explore the beauty and significance of eco-friendly jewelry, shedding light on the benefits it offers to the environment and why it's becoming a preferred choice among jewelry enthusiasts.