Create a jewelry for every special moment in life - using Giliarto's 3d jewelry creation platform Clio for hobby
One doesn't need an excuse to buy jewelry. But if there is an occasion to buy jewelry, one doesn't want to miss it either. People buy jewelry for their marriages, to commemorate marriages (anniversaries), to celebrate some achievement, for attending others' marriages, or simply because they feel like it.
When there are so many occasions for buying jewelry, there is a chance of you getting tired of seeing the same designs over and over again. Some jewelry stores might have newer designs, but those designs might fail to catch your eye. At other times the designs might be great but the colors might not suit your tastes. And finally, the designs might be great but the cost would be behind your reach. What is the way out in such situations when you want that special piece of jewelry for a special occasion but the available options are not satisfying enough?
You can check out Giliarto's online jewelry website and try the Clio 3D jewelry designing platform from Giliarto. Clio offers you a number of helpful filters to narrow down the choices. You can start off by specifying your budget range, so that the materials and designs that Clio would choose for you wouldn't be too costly. Then you can specify which metal you want to design your jewelry in, and also the level of intricacy of your design. You can choose from among classical and contemporary designs. Once your filters are all selected, you will get to create your own jewelry and see how they look in 3D without spending a dime.
Only after the perfect design is created need you order for that piece of jewelry which would be delivered to you as per the committed time. This is how Clio can help you easily create the perfect jewelry for every one of your important life events.
Leave a comment
Comments will be approved before showing up.
---
Also in Articles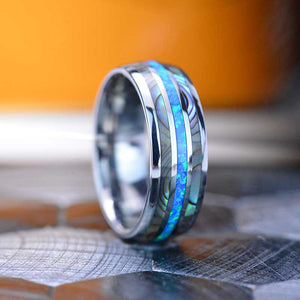 Unveiling the Timeless Elegance: Tungsten Rings with Abalone Shell and Crushed Opal Inlays for Men
In the world of men's fashion, finding a ring that perfectly combines style, durability, and distinctiveness can be a challenging task. However, the search ends with the mesmerizing allure of tungsten rings adorned with abalone shell and crushed opal inlays. These exquisite rings offer an extraordinary blend of natural beauty, rugged strength, and artistic craftsmanship, making them an ideal choice for modern men who seek to make a bold and unique statement.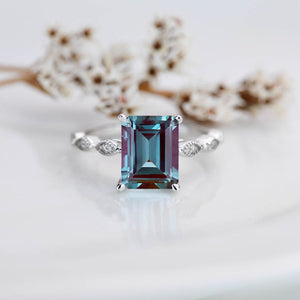 Embracing Eco-Friendly Jewelry: The Beauty of Recycled Gold and Lab-Grown Stones
In recent years, the world has witnessed a growing awareness and concern for the environment, leading to a surge in demand for sustainable and eco-friendly products. The jewelry industry, often associated with resource-intensive practices and environmental concerns, has not been immune to this shift. As consumers become more conscious of their choices, eco-friendly jewelry crafted from recycled gold and lab-grown stones has emerged as a popular and ethical alternative. In this article, we explore the beauty and significance of eco-friendly jewelry, shedding light on the benefits it offers to the environment and why it's becoming a preferred choice among jewelry enthusiasts.