Why Moissanite Is Better Than A Diamond?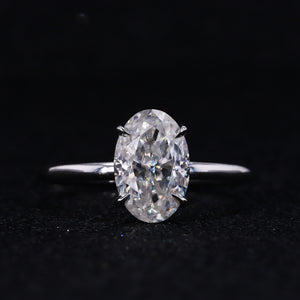 Why Moissanite Is Better Than A Diamond?
Have you been mulling about buying a new piece of diamond jewelry? The ethical and environmental cost of natural diamonds as well as the financial investment may seem quite daunting. If you've been looking at different options, comparable to brilliance, moissanite is an excellent choice.

 Moissanite, thanks to its versatility and affordability, has garnered a worldwide fan following. Unless you're seasoned with the precise characteristics of each gemstone, it won't be easy to tell a moissanite apart from a diamond.
The eclectic selection of moissanite engagement rings and jewelry at Giliarto will surprise you. With such dainty yet outrageous designs, you can rest assured about turning heads without breaking your bank for a designer label.  
The origin of moissanite
With an extra-terrestrial origin, the first moissanite was discovered at a meteorite crater in Arizona in 1893. Silicon carbide being its principal component, natural moissanites are incredibly rare. One of the most scintillating gemstones is chemically synthesized in laboratories.  
Moissanite has been engineered to offer the perfect illusion of its similarity to a diamond. Nonetheless, moissanite is visually as well as structurally quite different from an actual natural diamond. The brilliance, color, and durability of these two gemstones are quite diverging.  
Why should you choose moissanite over a diamond?
Increasingly, consumers are moving toward making an informed choice with moissanite. But what are the reasons behind it? Why have diamonds been getting a bad rap in the last few years? How does moissanite compare to a diamond?
Natural diamonds are prohibitively expensive
We all know that diamonds are expensive. Period. The diamond industry, led by the pioneering De Beers advertising campaign in 1948, put in place an enticing proposition – ' a diamond is forever'. This started an avalanche of consumer interest in 'diamond engagement rings' that simply refuses to fade even in 2021.
Though hyped for its rarity, a diamond is far more easily available than other cheaper yet precious gemstones. The cost of a diamond in relation to its actual value is highly inflated. A diamond will certainly last a lifetime but at the cost of months or even years of savings. Though lab-created diamonds are taking place of natural diamonds, they are still more expensive than moissanite.
The value and price of a diamond depend on its 4Cs – Cut, Clarity, Color, and Carat Weight. These four elements come together to develop a diamond's brilliance and beauty.  
Moissanite, on the other hand, with similar appearance and hardness, costs a fraction of a diamond of comparable size and carat weight. When it comes to price tag, moissanite is a clear winner. Most buyers will not be able to refuse this offer. The differing types of moissanite materials are 'enhanced' or 'unenhanced'. These types combined with a stone's size determines the price of a moissanite specimen.
The climate cost of a natural diamond
The diamond industry primarily depended on moving huge masses of the earth using intensive human labor to unearth diamonds. The processes were industrialized over the decades. However, allegations of destruction of natural habitat, labor abuse, and human rights violation were rampant over these years. Diamond mining and its bloody practices across developing nations have left them ravaged with war and green cover loss. A natural diamond when presented to you in a glitzy store, unless certified otherwise, has caused the loss of lives and nature in one or more distant lands. The global diamond industry is far from innocent.
Better mining practices have been adopted in the last decades. Yet, there are many problems plaguing the industry. Allegedly, child labor and forced labor are still being employed by unscrupulous organizations. Atrocities were perpetrated, warlords were funded, and gory civil wars were raged – all in the name of a diamond engagement ring. The term 'blood diamond' points to a host of illegal operations. Efforts are being made to implement 'responsible diamond mining' practices through the supply chain spanning the world does not guarantee absolute righteousness.  
Moissanite born in the sanctified environs of a laboratory does not leave ecological devastation and labor abuse in its wake. When you are sure that your ring is not accountable for the environmental deficit in any poorer parts of the world, it definitely makes for a conscientious choice for a modern buyer. Moissanite is your ethical alternative to a diamond.
Selecting your moissanite engagement ring
When compared based on their top view, moissanite is priced dramatically lower than a diamond of the same size. Moissanite typically varies in price solely based on its size. Moissanites are also marked whether the gem is of 'Premium' or 'Super Premium' quality.
Though labeled as 'colorless', a moissanite still projects a certain yellowish tint under some lights. Also, with a different faceting pattern, moissanite exhibits unique brilliance than a diamond. The rainbow, fiery flashes of color heightens its brilliance generating a 'disco ball' effect under sunlight. However, these twin issues can be beautifully addressed if you opt for bold yet beautiful gray or black moissanite engagement ring. Gray is also the official Pantone color of 2021. A resilient gray moissanite on a gold wedding ring or engagement ring makes a statement. A daring black moissanite reflects the sheer intensity and individuality of the wearer.  
These colors allow you to play with the design and gem arrangement on your ring. A small row of diamonds on the shank with a moissanite solitaire in the center gives birth to a stunning engagement ring.  Multiple rows of smaller diamonds can flank gray moissanite. Two accent stones on both sides also look appealing in an engagement ring. The versatility of moissanites ensures that it fits perfectly in diverse settings and shapes.
Custom designing your moissanite engagement ring
Nothing speaks personalized and uniqueness better than a stunning custom-made moissanite engagement ring. At Giliarto, we specialize in the art and science of custom-making engagement rings. A customized ring is the finest and exceptional expression of your love.
Our Clio 3D platform has been strategically developed to serve meticulous buyers who want to oversee the entire process of crafting the ring. From sketching the idea to modifying the design details to developing the ring of your dreams – Clio gives you the closest view every step of the way. This state-of-the-art technology platform is easy to use. It will realistically recreate and elevate every engagement ring idea you have in mind.
Think halo engagement ring with central moissanite encircled by smaller sparkling diamond accents. The three-stone setting is equally appealing. A twisted vine engagement ring has been growing in popularity owing to its nature-inspired appearance. The four-prong comfort fit petite ring is the perfect moissanite solitaire you've been looking for.
You can start the journey of designing a moissanite engagement ring by telling us about your project! It will give us a clear idea of your preferences. Your preferred shape, silhouette, and structure will be replicated in gorgeous options of yellow gold, white gold or platinum, and mellow rose gold. Designing your own jewelry is an experience of a lifetime. A minimalist pavè band with accent diamonds or an ornate, elaborate halo, accent stones ensure your moissanite ring sparkles dazzlingly.
A brilliant moissanite engagement ring trumps a more expensive diamond simply by appearing splendid and radiant. That too, within a budget!
Why Gray Moissanite Is The Best Choice For Your Engagement Ring In 2021?
Useful and Practical Ideas on how to use Giliarto 3D Platform
Leave a comment
Comments will be approved before showing up.
---
Also in Articles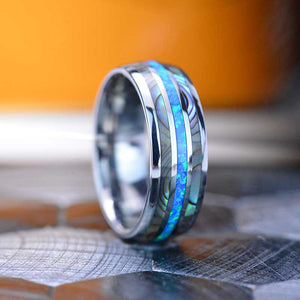 Unveiling the Timeless Elegance: Tungsten Rings with Abalone Shell and Crushed Opal Inlays for Men
In the world of men's fashion, finding a ring that perfectly combines style, durability, and distinctiveness can be a challenging task. However, the search ends with the mesmerizing allure of tungsten rings adorned with abalone shell and crushed opal inlays. These exquisite rings offer an extraordinary blend of natural beauty, rugged strength, and artistic craftsmanship, making them an ideal choice for modern men who seek to make a bold and unique statement.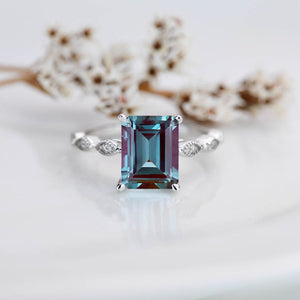 Embracing Eco-Friendly Jewelry: The Beauty of Recycled Gold and Lab-Grown Stones
In recent years, the world has witnessed a growing awareness and concern for the environment, leading to a surge in demand for sustainable and eco-friendly products. The jewelry industry, often associated with resource-intensive practices and environmental concerns, has not been immune to this shift. As consumers become more conscious of their choices, eco-friendly jewelry crafted from recycled gold and lab-grown stones has emerged as a popular and ethical alternative. In this article, we explore the beauty and significance of eco-friendly jewelry, shedding light on the benefits it offers to the environment and why it's becoming a preferred choice among jewelry enthusiasts.