June birthstone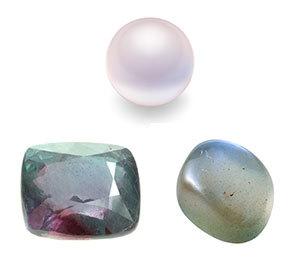 The month of March had two gemstones associated as birthstones. But the month of June goes a step further, with as many as three beautiful gemstones being the birthstone for this month – pearl, alexandrite and moonstone. Between these three gemstones, you find a great variety of textures, colors and prices, so you can choose your most convenient birthstone easily.
Pearls are different from other gemstones which are created from minerals, because these beautiful pearls are actually created by oysters. Pearls are one of the softest gemstones, and are also affected by extreme heat. They would actually dissolve if brought into contact with acid, so they need to be preserved carefully. Pearls signify innocence and purity. They are found in a variety of colors and shades, ranging from black to cream.
The second birthstone of June is called alexandrite. It was first mined in Russia, and so named because it was discovered on the birthday of Czar Alexander. Russia was the first location of alexandrite mines, and the similarity of the color combinations with the Russian national colors led to this gemstone becoming the official gemstone of Russia. Today it is found in Eastern Africa, Brazil and Sri Lanka. In spite of so many locations, alexandrite is found in very small quantities, and its rarity makes it really costly.
The third gemstone which is considered a June birthstone is the moonstone. It is made from feldspar, and the layers of feldspar scatter and bend the light rays to give a shimmering effect to this gemstone. The moonstone story began in Sri Lanka, but today it is also mined in other parts of Asia, Australia and Madagascar. As the name signifies, this gemstone is associating with the soothing effects of the lunar cycles, and is also said to regulate the human biological cycles, and is looked upon as a gemstone that affects fertility positively.
Leave a comment
Comments will be approved before showing up.
---
Also in Articles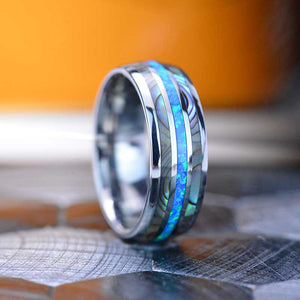 Unveiling the Timeless Elegance: Tungsten Rings with Abalone Shell and Crushed Opal Inlays for Men
In the world of men's fashion, finding a ring that perfectly combines style, durability, and distinctiveness can be a challenging task. However, the search ends with the mesmerizing allure of tungsten rings adorned with abalone shell and crushed opal inlays. These exquisite rings offer an extraordinary blend of natural beauty, rugged strength, and artistic craftsmanship, making them an ideal choice for modern men who seek to make a bold and unique statement.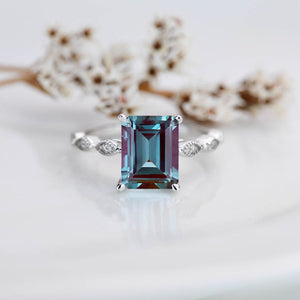 Embracing Eco-Friendly Jewelry: The Beauty of Recycled Gold and Lab-Grown Stones
In recent years, the world has witnessed a growing awareness and concern for the environment, leading to a surge in demand for sustainable and eco-friendly products. The jewelry industry, often associated with resource-intensive practices and environmental concerns, has not been immune to this shift. As consumers become more conscious of their choices, eco-friendly jewelry crafted from recycled gold and lab-grown stones has emerged as a popular and ethical alternative. In this article, we explore the beauty and significance of eco-friendly jewelry, shedding light on the benefits it offers to the environment and why it's becoming a preferred choice among jewelry enthusiasts.