Best Christmas Jewelry Gift For Him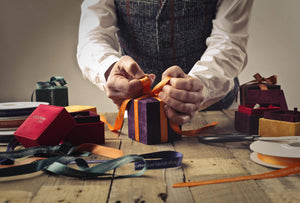 Christmas is almost here, and if you have not yet completed your Christmas shopping for 2018, then you should hurry up. Almost all establishments have come out with attractive Christmas offers, and so this is the perfect time to buy instead of waiting till it is too late. Before you agonize over what to buy for your man, or for any man in your life, let us make things easier by telling you that we already know what would be the best gift. And that best option is men's' jewelry. Yes, you heard that right. In 2018, jewelry is no longer limited to women only. And men have gone beyond the staid wedding band and at best a pair of cufflinks is over. You have a wide variety of options to choose from. Let us look at the most popular choices of 2018.
Skull Rings – If the man you are buying a gift for likes to project a bad boy image, then this gift is ideal. Many bikers also like to sport these skull rings. This gift will only work for that kind of a persona. If you are gifting a regular 9 to 5 guy a skull ring, it might stay at the back of his closet forever. These rings are usually made out of heavy metals like silver, stainless steel etc.
Chunky Beads – These neck-pieces give a macho attractive look to the person wearing them. The beads can be made of gemstones, wood, or may even be faux beads made of colored glass. Many people add on a metal neck-piece or lockets to add a touch of variety. Just like the previous one, not everyone might be comfortable flaunting a necklace of beads during a board meeting, so you need to keep the personality of the person in mind before buying this gift for him.
Unusual Finishes – Not everyone likes gleaming gold and dazzling gemstones on their jewelry. Many jewelry pieces today are made of metals with an unfinished or unpolished look. The metals used for such raw-look jewelry are stainless steel, tungsten and titanium. The men's jewelry pieces made with this kind of finish are rings, bracelets and even necklaces.
Non-Metal Jewelry – We already spoke of the necklace of beads. Necklaces for men are also being made with other materials. For example, some necklaces are made of para-cord which can be used as a smart and macho neck-piece, but when needed, the para-cord can be used for other purposes. Many necklaces are also being made of leather cords. These pieces of jewelry can be made in the form of necklaces or as bracelets as well.
Crystal – You have gifted beer mugs to the man in your life for years. This Christmas you can try something different, by gifting him his beer mugs in hand-cut crystal. Ok, so beer mugs are not exactly jewelry. In that case, you can look for necklaces with crystal lockets, or metal bracelets inlaid with crystal stones.
Key-chains – Again these are not jewelry technically, but are being made by many jewelers using heavy metals and maybe some semi-precious gemstones. Even if you think gemstones would be wasted on a key-chain, you can go for a full-metal look, and have the metal burnished to the extent you want.
As you can see from the six options above, there are many choices available for you. But the fact remains that many men are still not comfortable flaunting jewelry. To ensure that your gift doesn't lie unused, have a chat with him before you start hunting for your gift. Once you have his buy-in, you can choose what you think he would like.
Leave a comment
Comments will be approved before showing up.
---
Also in Articles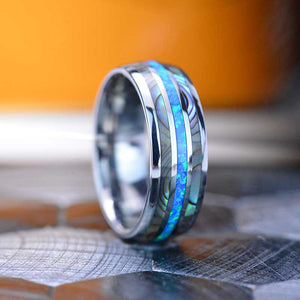 Unveiling the Timeless Elegance: Tungsten Rings with Abalone Shell and Crushed Opal Inlays for Men
In the world of men's fashion, finding a ring that perfectly combines style, durability, and distinctiveness can be a challenging task. However, the search ends with the mesmerizing allure of tungsten rings adorned with abalone shell and crushed opal inlays. These exquisite rings offer an extraordinary blend of natural beauty, rugged strength, and artistic craftsmanship, making them an ideal choice for modern men who seek to make a bold and unique statement.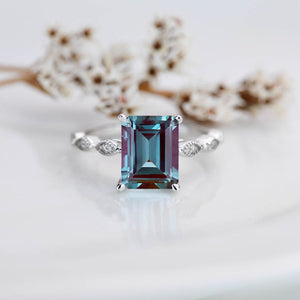 Embracing Eco-Friendly Jewelry: The Beauty of Recycled Gold and Lab-Grown Stones
In recent years, the world has witnessed a growing awareness and concern for the environment, leading to a surge in demand for sustainable and eco-friendly products. The jewelry industry, often associated with resource-intensive practices and environmental concerns, has not been immune to this shift. As consumers become more conscious of their choices, eco-friendly jewelry crafted from recycled gold and lab-grown stones has emerged as a popular and ethical alternative. In this article, we explore the beauty and significance of eco-friendly jewelry, shedding light on the benefits it offers to the environment and why it's becoming a preferred choice among jewelry enthusiasts.