July birthstone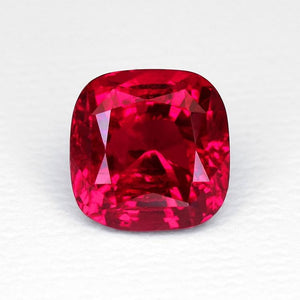 The ruby is one of the most attractive gemstones, and it is considered the birthstone of the month of July. The color red stands for passion and vitality, and stands out in any collection of colors to catch the eye. The ruby gemstone also carries some of these properties. The similarity to the color of human blood imparts the association of life force, energy and courage to this gemstone.
India and China are two countries where the ruby has traditionally been worn with pride. Indian and Greek folklore used to believe that a fire burning inside the stone was responsible for the bright red color of the ruby, and therefore they used to believe that a ruby could boil water or melt wax respectively. Burma (Myanmar) has been a source of this gemstone for centuries and early warriors of this country used to synthetically insert rubies just below their skin to ensure that they were well protected while going to war. Even today, some of the best rubies come from the Mogok Valley in Myanmar. Although Burma still rules the roost as far as rubies are concerned, this gemstone is today mined in several other countries like the USA, parts of the Middle East and in India.
The bright red of the ruby gemstone makes it a universal favorite as wedding gifts, the reason being that it is said to convey passion and love. This red color and the fluorescent brightness comes from the chromium inside rubies. Rubies have considerable durability, and they are pretty hard as well, scoring 9 on the Mohs scale. But rubies are also prone to cracks or fissures, which is why they are rarely found in very big sizes. This difficulty in crystallizing rubies to big enough sizes leads to some of the high prices this gemstone is often sold at.
Leave a comment
Comments will be approved before showing up.
---
Also in Articles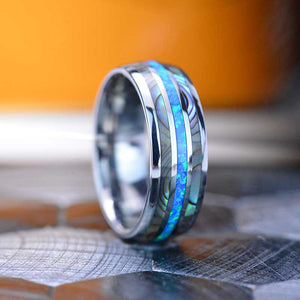 Unveiling the Timeless Elegance: Tungsten Rings with Abalone Shell and Crushed Opal Inlays for Men
In the world of men's fashion, finding a ring that perfectly combines style, durability, and distinctiveness can be a challenging task. However, the search ends with the mesmerizing allure of tungsten rings adorned with abalone shell and crushed opal inlays. These exquisite rings offer an extraordinary blend of natural beauty, rugged strength, and artistic craftsmanship, making them an ideal choice for modern men who seek to make a bold and unique statement.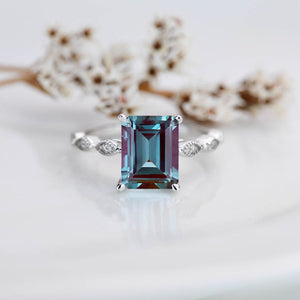 Embracing Eco-Friendly Jewelry: The Beauty of Recycled Gold and Lab-Grown Stones
In recent years, the world has witnessed a growing awareness and concern for the environment, leading to a surge in demand for sustainable and eco-friendly products. The jewelry industry, often associated with resource-intensive practices and environmental concerns, has not been immune to this shift. As consumers become more conscious of their choices, eco-friendly jewelry crafted from recycled gold and lab-grown stones has emerged as a popular and ethical alternative. In this article, we explore the beauty and significance of eco-friendly jewelry, shedding light on the benefits it offers to the environment and why it's becoming a preferred choice among jewelry enthusiasts.