Regale One and All with An Enchanting White Moissanite Engagement & Eternity Ring Set!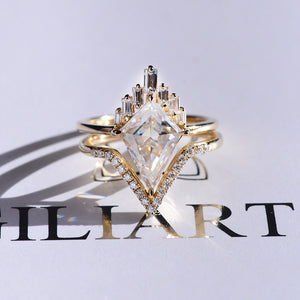 Regale One and All with An Enchanting White Moissanite Engagement & Eternity Ring Set!
Diamonds remain the best friend of a woman despite good times or bad. However, finding the perfect diamond can be quite challenging as you would have to factor in all the parameters, especially the 4Cs. Sure, tradition dictates that you go for a classic round or oval stone that will be set into your engagement ring and wow the world. But, you are not royalty or a top Hollywood celeb who thinks nothing of spending a King's ransom on the glittering stone. You certainly have to think about your budgetary restrictions. No worries! Option for the second hardest stone in the world by buying beautiful moissanite designed into the shape you like to have?
You will be intrigued to know that you do not have to think of spending three months of your take-home pay, especially when you are all agog about buying the moissanite ring. It may be lab-grown, but it resembles a brilliant diamond in the way. Think of the four Cs i.e. cut, clarity, color, and carat, and you get to tick all the boxes at one go. 
Whether you aspire to show off a solitaire or want to encase the beautiful diamond-like stone in a glittering halo, you will be able to do it all! It is time to select a shape that will complete you! Forget the commonplace rounds and ovals and concentrate on the offbeat shapes. You are welcome to check out the emerald, or Marquise cut, as moissanite is fashioned into just the shape; you want it to be. Plus, durability is not going to be lost either. On the contrary, you will be intrigued to find it shining brighter than ever. 
What about a cut that has not been around too much? Being unique is half the battle won, for no one will be compelled on the quality of diamond you are wearing. It is time to embrace the curious kite shape that exudes all the charm, whether you cut a diamond or moissanite. It is interesting to know that the kite shape can be achieved with several step cuts, much like the emerald or princess cut diamond. Replicate the cut in moissanite, and you will have a perfect rhombus-like stone occupying the center of the engagement or eternity ring. 
Sure, the kite shape of the stone will not sparkle and shine, but it certainly exudes an aura that is hard to ignore. The four sharp corners of the ring are sure to grab attention and hold it for minutes. You will find your friends and acquaintances mesmerized by the unique kite-shaped moissanite ring pronouncing your engagement. 
After the cut, the color comes! Why go for the colorless shimmer when you can generate more interest by choosing to match the diamond/ moissanite with your wedding gown. White it is! Remember that you are getting a sum of all possible colors instead of highlighting a single one. Plus, it is easier to recreate on moissanite than on a natural diamond. Think of the advantages here, and source this wonderful kite-shaped white moissanite fashioned into an engagement/eternity ring. 
 https://www.giliarto.com/products/14k-white-gold-3-carat-kite-moissanite-halo-engagement-ring-eternity-ring-set-2
Leave a comment
Comments will be approved before showing up.
---
Also in Articles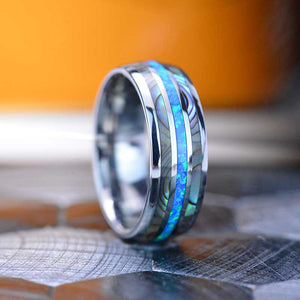 Unveiling the Timeless Elegance: Tungsten Rings with Abalone Shell and Crushed Opal Inlays for Men
In the world of men's fashion, finding a ring that perfectly combines style, durability, and distinctiveness can be a challenging task. However, the search ends with the mesmerizing allure of tungsten rings adorned with abalone shell and crushed opal inlays. These exquisite rings offer an extraordinary blend of natural beauty, rugged strength, and artistic craftsmanship, making them an ideal choice for modern men who seek to make a bold and unique statement.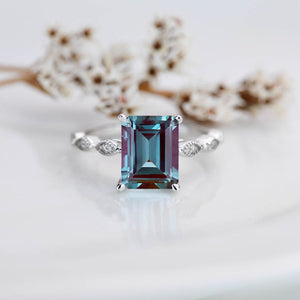 Embracing Eco-Friendly Jewelry: The Beauty of Recycled Gold and Lab-Grown Stones
In recent years, the world has witnessed a growing awareness and concern for the environment, leading to a surge in demand for sustainable and eco-friendly products. The jewelry industry, often associated with resource-intensive practices and environmental concerns, has not been immune to this shift. As consumers become more conscious of their choices, eco-friendly jewelry crafted from recycled gold and lab-grown stones has emerged as a popular and ethical alternative. In this article, we explore the beauty and significance of eco-friendly jewelry, shedding light on the benefits it offers to the environment and why it's becoming a preferred choice among jewelry enthusiasts.