Shay and Jason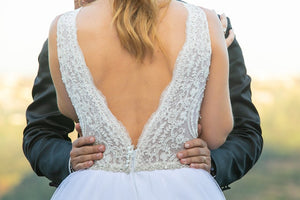 Stories started flowing whenever strangers, more specifically women, took a look at Shay's engagement ring. A three-stone, diamond studded, black moissanite engagement ring is all about inquisitive looks and eventual questioning. Shay never really gets tired of telling the same story, over and over again. Twinkling eyes and sweet memories always make for great conversations. Shay's is a unique love story that she shares with Jason.
Most engagement stories tend to be seamless, many are not so much. Yet they are undeniably romantic. Such is the story of Shay and Jason. Much to the chagrin of our readers, they grew up together in New York City and were actually childhood sweethearts. Jason was all of five when Shay and her mom moved into the lovely house next door.
From the first time five-year-old Jason set his eyes on this young neighbor, he knew they were going to be great friends, or even best of friends. So much was his keenness to befriend his future partner in crime, it took his mother by surprise.  But lo and behold, surprises also awaited Shay's mother.  This request for friendship was immediately responded by Shay. Their mothers were in awe of this instant and palpable natural chemistry shared by two youngsters. As it were, Shay was Jason's first girlfriend, then his first kiss, and most obviously, his first love.
They grew up together. The shared too many memories together to create a separate childhood identity. They were entwined in history and geography collectively. Their enviable bonding survived years of long distance relationship when Jason had to go away for college and Shay had to relocate to West Coast for her first job. Their relationship was least interrupted by the hundreds of miles between them. With nothing less than 5 years between jobs and education,  they finally regained themselves back in their cozy hometown. Years did harden their promise to come closer as they chose not to move back into their childhood homes in the same old neighborhood.
It was time to take things a step further. It was just the right time to move together under the same roof. They rented a place in the city. Jason already had plans to propose in some time, but he preferred to wait for the right time. The early days were not easy. Running chores, handing a job, managing a house, and fueling a relationship are tough tasks. It can strain even the sturdiest of relationships. Jason and Shay took time to adjust to this new life. Over the next few months, everything fell into place. They were ready to take every struggle in their stride. Yet, something was not right with Jason.
More than anything else, the engagement ring did keep Jason awake at night. He's not going to propose way too many times in his life. And with Shay he wanted to make everything just right. He tossed many ideas around to arrive at something extraordinary. What about something as exceptional as a black center stone. Shay and the color black are synonymous. From formal wear to night outs, Shay stunned in black. She also liked things off the beaten track. Often, she said there's too much brouhaha about those diamonds, alright.
Finally, Jason chose a 2 carat black moissanite, diamond accented, white gold engagement ring. Thankfully, it was the best decision he's ever made. All the research, discussions with Giliarto experts came to fruition when he decided to design the ring himself with Clio. This 3D platform was a savior as he sketched, tweaked, and redesigned the original idea to arrive at an extraordinary and exquisite ring, perfect for his Shay. It has been crafted to perfection. The central moissanite had two radiant diamonds on both sides. Each of the stone complemented the other to create a sensational engagement ring.
This moissanite engagement ring gave Jason the courage to pop the question at the opportune moment. Close to Valentine's Day, Jason made a decision considered clichéd yet utterly romantic. Arrangements were made to make the big move. A picnic plan on a bright Sunday morning seemed perfect to Jason. Only Shay wanted to enjoy a quiet day at home after a long, painful week at work and endless chores around the house. Jason wasn't ready to take no for an answer. It took, hold your breath, six l.o.n.g months of consistent persuasion from Jason to get Shay say yes to the plan. The two headed out for a beach only two hours drive away from the city.
The cozy picnic had food, fun, and relaxation. Drinking wine, holding hands, and visiting restaurants close by, it was a fulfilling day of happiness. When Say was ready to wrap, Jason asked her for a walk along the serene shoreline. The two walked barefoot soaking in the last rays of the setting sun as the waves caressed their feet. Without her realizing, Jason walked her toward a lovely gazebo away from the crowded part of the beach. Shay only saw the gazebo when she was standing in front of it. The white gazebo decorated with gleaming, twinkle lights and bathed in the fading sunlight created a surreal aura around it. As if time stood still and the world fell silent around them. Maybe this is what they needed to understand the indivisible identity they shared. Their relationship is a celebration of being together, always.  
Jason held her hand as he went down on his knee. A small ornate box was in his hands. The black moissanite gleamed against the silk pillow of the velvet box. Shay was taken by surprise. She held her breath as Jason said, "You have been my closest companion and a partner of my life. I can't imagine a life without you. Will you please hold my hands and be my best friend for the rest of my life?" As Shay likes to say this, over and over again, that this was possibly the best day of her life. It was a tearful and blessed "yes".
Leave a comment
Comments will be approved before showing up.
---
Also in Articles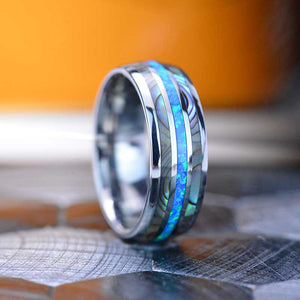 Unveiling the Timeless Elegance: Tungsten Rings with Abalone Shell and Crushed Opal Inlays for Men
In the world of men's fashion, finding a ring that perfectly combines style, durability, and distinctiveness can be a challenging task. However, the search ends with the mesmerizing allure of tungsten rings adorned with abalone shell and crushed opal inlays. These exquisite rings offer an extraordinary blend of natural beauty, rugged strength, and artistic craftsmanship, making them an ideal choice for modern men who seek to make a bold and unique statement.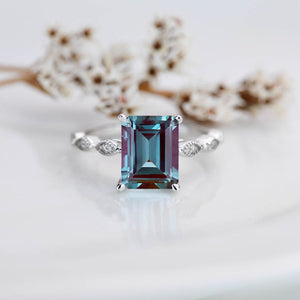 Embracing Eco-Friendly Jewelry: The Beauty of Recycled Gold and Lab-Grown Stones
In recent years, the world has witnessed a growing awareness and concern for the environment, leading to a surge in demand for sustainable and eco-friendly products. The jewelry industry, often associated with resource-intensive practices and environmental concerns, has not been immune to this shift. As consumers become more conscious of their choices, eco-friendly jewelry crafted from recycled gold and lab-grown stones has emerged as a popular and ethical alternative. In this article, we explore the beauty and significance of eco-friendly jewelry, shedding light on the benefits it offers to the environment and why it's becoming a preferred choice among jewelry enthusiasts.